Azerbaijani, Turkish troops conduct firing exercises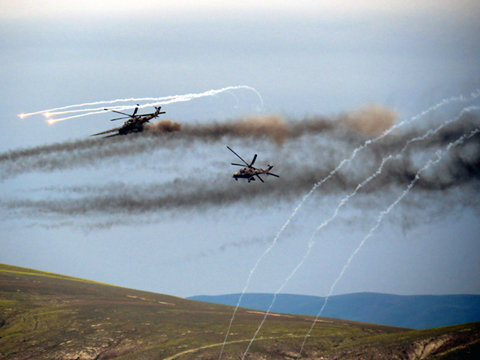 By Mushvig Mehdiyev
Azerbaijani and Turkish armed forces accomplished the firing phase of the joint drills held on the margins of military cooperation agreement on May 14.
Infantry and tank units, missile and artillery equipment, anti-aircraft systems and helicopters have eliminated all targets through accurately realizing combat firings and missile launches.
The level of combat readiness, operativeness of the task implementation, as well as the organization of the mutual activity and coordination of all troops involved in the exercises were checked in detail. Moreover, training served to examine the effective work of personnel, weapons and military equipment alongside the accomplishment of the tasks set.
The main and auxiliary units attending the drills conducted all operations with high accuracy, pursuant to the exercise scenario, according to Azerbaijan's Defense Ministry.
Following all firing exercises, all involved units set out to launch the next phase of the ongoing drills.
Azerbaijani and Turkish armed forces have teamed up for the four-day joint military drills in Azerbaijan's territory on May 12.
Nearly 1,000 personnel, 80 armored military equipment, over 60 artillery systems and mortars, alongside 12 combat and transport helicopters of the Air Forces attend the large-scale training. Moreover, in view of ensuring the air protection of the drills, air defense and anti-aircraft missile units armed with modern defense systems have also joined the exercises.
The key purpose of the training is to improve coordination between the Azerbaijani and Turkish armed forces through experience exchange. The military brass of both countries also aim to achieve better interaction of their armed forces by developing joint planning activities, as well as improve on the combat skills of all units.
The major parts of the exercises is dedicated to the organization and realization of joint attacks on the enemy's defensive positions - armored units' seizure of favorable positions through the destruction of the enemy's defense line. In terms of air protection, the drills also concentrate on tactical airborne penetration into the enemy's rear and interaction between both the attacking and air protection forces. The exercises will be carried out until May 16.
Based on numerous agreements on joint military exercises as part of bilateral progressive efforts towards military cooperation, the Azerbaijani and Turkish armed forces have hold regular drills, featuring various tactical and combat tasks so far.
- - -
Follow Mushvig Mehdiyev on Twitter: @Mushviggo
Follow us on Twitter: @Azernews