12 March 2015 19:05 (UTC+04:00)
370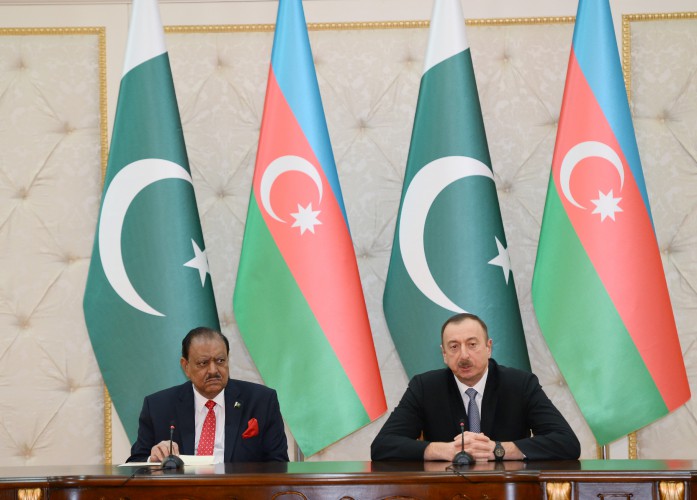 By Sara Rajabova
Azerbaijan has hosted a very warm reception for the president of Pakistan, one of its close allies in the Asian continent along with Turkey that shares common history, religion, culture and traditions with the Land of Fire.
The visit was remarkable, with a joint declaration on strategic partnership that the heads of state of Pakistan and Azerbaijan signed.
Azerbaijani President Ilham Aliyev said the two countries created a new cooperation format, while Pakistani President Mamnoon Hussain noted the documents signed will strengthen bilateral cooperation in many fields.
"Today the two independent countries create a new format of cooperation based on our historical legacy, our traditions, our religion, at the same time, based on our strategic interests," President Aliyev stressed.
Political support to resolution of conflicts
President Aliyev also highlighted Pakistan's continuous support to Azerbaijan in the resolution of the Armenian-Azerbaijani Nagorno-Karabakh conflict.
Pakistan supported Azerbaijan during and after the Nagorno-Karabakh War in early 1990s and it is one of the few countries that do not have any diplomatic relations Armenia due to the ongoing occupation of 20 percent of Azerbaijan's lands.
"It is a symbol of real support," President Aliyev said.
Touching upon the Jammu and Kashmir conflict -- a major territorial dispute between India and Pakistan, Aliyev said Azerbaijan always supported the resolution of the dispute in accordance with all relevant UN documents.
The cooperation in the military and defense industry sphere was one of the main issues of discussion between Azerbaijani and Pakistani officials.
The fundamental building block of the bilateral relationship between Azerbaijan and Pakistan is military cooperation. The sides intend to join efforts to gain access to modern technologies, as well as modernize their potential.
"We want to combine our efforts to gain access to modern technologies, as well as have more opportunities to work together in the fields of research, science and defense technology," President Aliyev said.
Another important area of cooperation between the two countries is humanitarian sphere. Azerbaijan has taken an active part in implementing humanitarian projects in Pakistan.
The Heydar Aliyev Foundation has implemented various projects in education, health, culture starting its activity in Pakistan in 2007.
Striving for better economic ties
Azerbaijan and Pakistan also focused on the development of economic relations. The two countries have agreed on boosting bilateral trade and investment cooperation.
Although the countries enjoy very close friendly relations at diplomatic level, these close ties have not been translated into significant commercial gains. Currently, the trade turnover between Azerbaijan and Pakistan stood at $2.8 million in 2014, according to the Azerbaijan State Customs Committee.
Azerbaijan-Pakistan Business Forum kicked off in Baku on March 12 to expand the economic cooperation and contacts between business circles, as well as create additional opportunities for mutual investment and joint ventures.
The Azerbaijani and Pakistani presidents attended the forum, involving officials, as well as 100 businessmen, engaged in agriculture, industry, construction, health, ICT and other sectors, representing the two countries.
The Azerbaijani Chamber of Commerce and Industry and the Pakistani Federation of Chambers of Commerce and Industry signed a memorandum of understanding.
Pakistani president's visit to Azerbaijan will last by March 14. He will meet with a number of high-ranking Azerbaijani officials as part of the Baku visit.
--
Sara Rajabova is AzerNews' staff journalist, follow her on Twitter: @SaraRajabova

Follow us on Twitter @AzerNewsAz
Related News