Human rights should not affect Azerbaijan-U.S. relations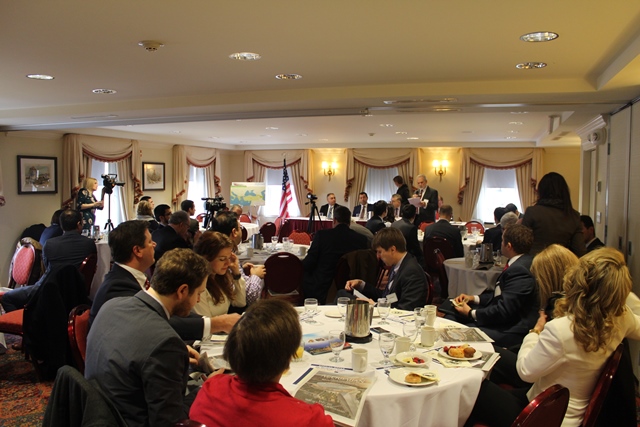 The Washington Times organized an event devoted to the geopolitics in the Caspian Sea region and the bilateral relations between Azerbaijan and the United States.
The event was organized in Washington Club "Capitol Hill" of the U.S. Congress, the Azerbaijani embassy told Trend on February 4.

The event was conducted by John Solomon, The Washington Times editor, the embassy said.

Elin Suleymanov, Azerbaijani ambassador to the U.S., Samad Seyidov, Head of the committee on international and interparliamentary relations of the Azerbaijani parliament and MP Asim Mollazade made reports.

In his speech, the ambassador stressed the dynamic development of relations between Azerbaijan and the U.S. over the past 20 years, especially in the energy sector.

In particular, he focused on the implementation of the Baku-Tbilisi-Ceyhan (BTC) pipeline project. It was built thanks to the mutual cooperation and great support of the U.S..

He said that the relations between the two countries are being developed not only in the energy sector.

As an example, Sulemaynov cited the cooperation between Azerbaijan Airlines and Boeing companies, as well as launching Azerbaijan's first U.S.-made satellite into the orbit.

The ambassador welcomed the efforts of the U.S. towards the settlement of the Nagorno-Karabakh conflict, saying Azerbaijani people expect concrete results on resolving the problem.

Seyidov, in turn, said the Azerbaijani-U.S. relations are important for the region's future.

He said that these relations sometimes are affected by the less significant problems related to the human rights in Azerbaijan and this negatively affects the country's attempts to create closer relations with Europe and the US.

Mollazade, for his part, said the Azerbaijani-U.S. relations have a solid basis and emphasized the cooperation between the two countries in the defense sphere.

He added that currently, Azerbaijani servicemen are ensuring the security of the airport in Kabul, Afghanistan.

Furthermore, Mollazade commented on the ongoing developments in Eurasia, and touched upon the development of relations between Azerbaijan and Israel and other issues.

At the end of the event, the speakers answered the questions of the participants.
- - -
Follow us on Twitter @AzerNewsAz