Baku, Ankara mull prospects of military cooperation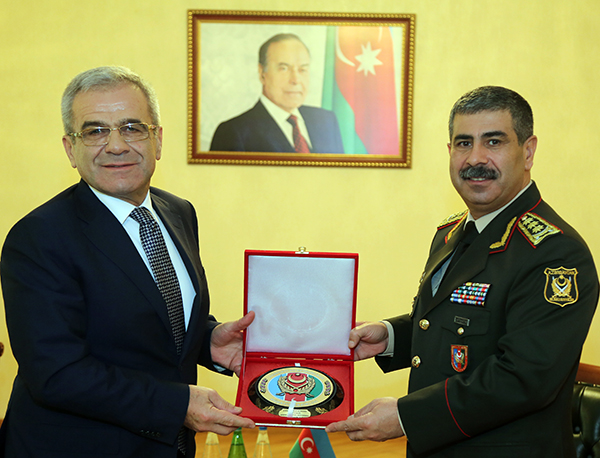 By Sara Rajabova
Azerbaijani and Turkish officials have discussed the cooperation in military and defense fields.
Colonel-General Zakir Hasanov, Azerbaijani Defense Minister received a delegation headed by Hasan Kemal Yardimci, Turkish Deputy Defense Minister December 11, the Azerbaijani Defense Ministry said.
While welcoming the guests, Hasanov said the military cooperation between Azerbaijan and Turkey is based on the friendly and fraternal relations.
Touching upon the Nagorno-Karabakh conflict, Hasanov stressed that the liberation of Azerbaijani lands occupied by Armenia is of great importance for the region.
Armenia occupied over 20 percent of Azerbaijan's internationally recognized territory, including Nagorno-Karabakh and seven adjacent regions, after laying territorial claims against its South Caucasus neighbor that had caused a lengthy war in the early 1990s.
Yardimci, for his part, expressed satisfaction with the visit to Azerbaijan. He stressed the role and importance of making such visits for strengthening the relations between the two countries.
Other issues of regional and bilateral cooperation were discussed during the meeting.
The cooperation in defense industry was also discussed during the visit of Turkish official.
Yaver Jamalov, Azerbaijani Minister of Defense Industry received the delegation headed by Yardimci on December 11, the Azerbaijani Ministry of Defense Industry said.
The current cooperation in the defense industry and prospects were discussed at the meeting.
The sides also focused on other issues of mutual interest.
Turkish Ambassador to Azerbaijan Ismail Alper Coskun attended the meetings.
Azerbaijan-Turkey relations have always been strong due to a common culture and history and the mutual intelligibility of Turkish and Azerbaijani languages.
Turkey was the first country in the world to recognize Azerbaijan's independence in 1991 and has been a staunch supporter of Azerbaijan in its efforts to consolidate its independence, preserve its territorial integrity, and realize its economic potential that arise from the rich natural resources of the Caspian Sea.