Baku rules out mutual confidence with Yerevan until return of occupied lands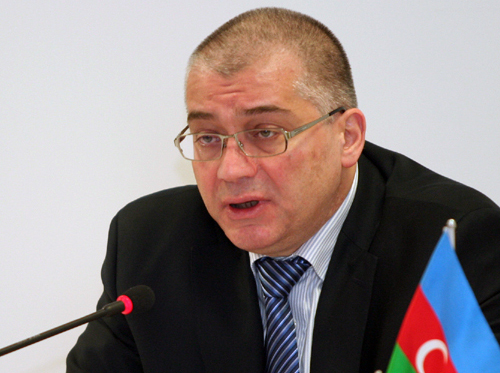 By Sara Rajabova
Azerbaijan's Deputy Foreign Minister, Araz Azimov said Armenia must absolutely withdraw from Azerbaijan's occupied lands.
Azimov made the remark at the 86th Rose Roth seminar of the NATO PA on "South Caucasus: Challenges and Opportunities" held in Baku.
"No mutual confidence, construction of communal lines, establishment of infrastructure, society and etc. is possible unless Armenia withdraw from Azerbaijani lands," Azimov said.
Armenia occupied over 20 percent of Azerbaijan's internationally recognized territory, including Nagorno-Karabakh and seven adjacent regions, after laying territorial claims against its South Caucasus neighbor that caused a brutal war in the early 1990s. Long-standing efforts by U.S, Russian and French mediators have been largely fruitless so far.
As a result of the military aggression of Armenia, over 20,000 Azerbaijanis were killed, 4,866 are reported missing and almost 100,000 were injured, and 50,000 were disabled.
The UN Security Council has passed four resolutions on Armenian withdrawal from the Azerbaijani territory, but they have not been enforced to this day.
He further said Azerbaijan supports "stage-by-stage" settlement of the conflict.
Noting that international community demonstrated a great courage on Ukraine crisis, Azimov said "However, we have expected the same courage over the last 20 years."
"Unfortunately, no courage has been demonstrated to resolve South Caucasus's problems. We expect more serious position based on loyalty to the territorial integrity. Armenia protested against Ukraine's territorial integrity. We also witnessed that President Serzh Sargsyan approached annexation of Crimea to Russia positively. Don't you see it?" Azimov asked.
Azimov also touched upon the issue of Lachin corridor saying the talks are usually about the importance of ensuring a surface corridor between Azerbaijan and Armenia.
"However, no one speaks about provision of corridor between Azerbaijan and Nakhchivan Autonomous Republic," he said.
Nakhchivan is one of Azerbaijan's regions which has been under a blockade over the last 20 years due to the Armenian aggression policy towards Azerbaijani territories.
Azimov also noted that the settlement of Armenians who fled Syria and Libya to Azerbaijan's occupied territories is a matter of concern.
"If you want to return these lands to us, why you try to create artificial tensions there? If Armenians do not have claim over the adjacent regions to Nagorno-Karabakh, why they attempt to change and escalate the tensions there?" Azimov asked.
The Azerbaijani government has repeatedly voiced concern over Armenia's actions regarding settling Syrian citizens of Armenian descent in Azerbaijan's occupied territories.
Baku is not against the accommodation of Syrian Armenians in other areas, but is absolutely against their settlement in Nagorno-Karabakh.