Obama says Azerbaijan, U.S. enjoy strong security cooperation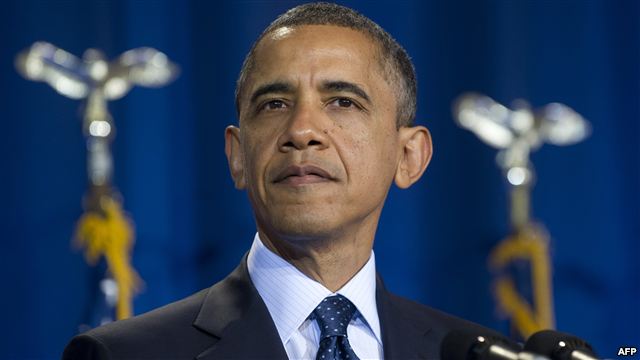 By Nazrin Gadimova
U.S President Barack Obama sent a letter of congratulation to his Azerbaijani counterpart Ilham Aliyev on May 22.

"On behalf of the U.S people and myself, I express you and the Azerbaijani people my best wishes on the occasion of Republic Day," the letter says.

"We join the Azerbaijani people, celebrating the historical holiday on the occasion of declaring May 28, 1918 as independence of the first secular and democratic country in the Muslim world - the Republic of Azerbaijan," Obama said in his letter.

The U.S. president further stressed that the two countries have strong security cooperation.

"We appreciate Azerbaijan's participation in the NATO mission in Afghanistan. The two countries have recently established close partnership in the energy sector. We appreciate the signing of the final investment decision as part of the Southern Gas Corridor in December 2013. We urge Azerbaijan to assume a leading role in protecting human rights and fundamental freedoms. We are also ready to assist Azerbaijan in achieving progress in the peaceful settlement of the Nagorno-Karabakh conflict. This will significantly contribute to stronger, stable and independent Azerbaijan we want it to be.

"I once again congratulate the Azerbaijani people, having rich culture and history, on the national holiday," the U.S. president said in his letter.
Azerbaijan will celebrate Republic Day on May 28, the 96th anniversary of the Azerbaijan Democratic Republic, which is an historic date marking the establishment of the first secular democratic state of the Islamic world.
During the 23-month-long activity, the Azerbaijan Democratic Republic managed to achieve great success and even during the 70-year Soviet period the Azerbaijani nation was able to preserve its national and spiritual values.