28 April 2014 10:00 (UTC+04:00)
1 933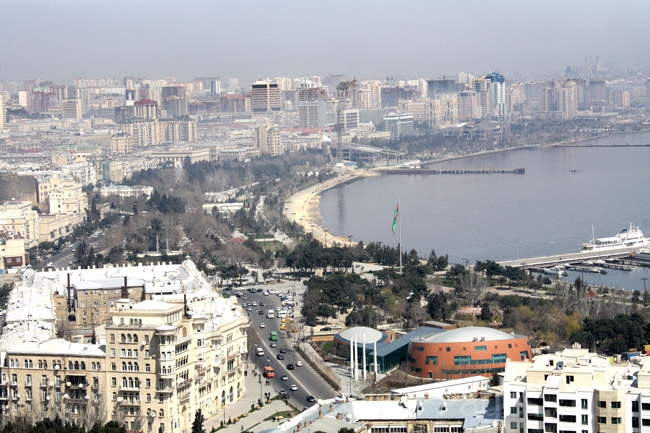 By Nigar Orujova
The Board of Directors of the Nizami Ganjavi International Center held its sixth meeting in Baku.
All members of the Center's Board of Directors - Vaira Vike-Freiberga, Ismail Serageldin, Tarja Halonen, Petar Stoyanov, Giuli Alasania, Walter Fust, Farida Allagahi, Ahmed Naseem Shah, Nazim Ibrahimov and Elmar Veliyev were present at the meeting.
The meeting heard a report on the works carried out by the Center.
The Board discussed a draft academic program written by Ismail Serageldin, which covered a range of issues including the Center's registration, budget, charter, and structure, as well as promotion of Nizami Ganjavi's legacy, future projects and outstanding tasks.
The participants also shared their impressions of the meeting with Azerbaijani President Ilham Aliyev.
Former Latvian President, Co-Chair of the Nizami Ganjavi International Center and President of the Club de Madrid Vaira Vike-Freiberga highlighted the Center's work in her opening remarks.
She stressed the necessity of translating works by Nizami Ganjavi into different languages. Vaira Vike-Freiberga said President Aliyev's care and attention are inspiring the board's members.
Vike-Freiberga highlighted the issues she discussed with the Azerbaijani leader, saying President Aliyev backed the continuation of the Nizami Ganjavi International Center's cooperation with its partners.
Member of the Board, Chairman of the Azerbaijan State Committee for work with Diaspora Nazim Ibrahimov thanked Ismail Serageldin and Vaira Vike-Freiberga for "coming up with ideas concerning the Center and playing a tremendous role in turning these ideas into a reality in a short period of time".
Member of the Board, Head of Ganja Executive Authorities Elmar Veliyev said Nizami Museum has been opened in Ganja. He added, Azerbaijani president attended the opening ceremony.
He said construction of the Center's building in Ganja would be completed this year, expressing hope "our next meeting will be held there".
Co-Chair of the Center, Director of the Bibliotheca Alexandrina Ismail Serageldin presented the draft academic program, which proposed allocating the Center's budget, drawing up an action plan, setting up sub-committees of the Board, promoting Nizami Ganjavi's legacy and setting up Academic Council and the Center's website.
Nizami Ganjavi International Center with its head office in Azerbaijan's second largest city, Ganja, was established in September 2012 to increase awareness of the great works of Nizami Ganjavi.
The Center helps to return Nizami's masterpieces to the homeland, serves as a depository for Nizami's works, and further develops the values embodied in his works through community engagement.
Nizami Ganjavi, the 12th century greatest representative of the Eastern Renaissance, displayed the quintessence of world literature and philosophy in his immortal works via the aesthetic power of his art.
Ganjavi started his creative endeavors with lyric poems. Nizami's lyric works stand out for high professionalism, secular attitude to love and humanist thoughts about a man's destiny.
Related News