13 February 2014 16:03 (UTC+04:00)
1 706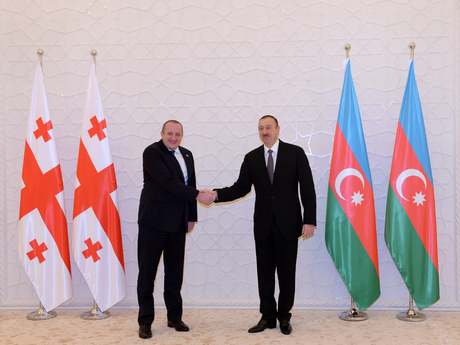 By Jamila Babayeva
Georgian President Giorgi Margvelashvili arrived in Azerbaijan's capital Baku to hold talks with the country's President Ilham Aliyev on bilateral relations.
Following an official welcoming ceremony, presidents Ilham Aliyev and Giorgi Margvelashvili held a one-on-one meeting and discussed a range of issues.
During the meeting, the two sides also expressed confidence that the Azerbaijan-Georgia ties would continue to develop in future.
After the one-on-one meeting, the delegations of two countries sat for expanded talks which were followed by a joint press conference of two presidents.
During the press conference, Aliyev and Margvelashvili praised the current relations between two countries in a variety of fields and expressed confidence that the ties would continue to develop in future.
President Aliyev emphasized strong political relations between the countries within international organizations adding that there is an appropriate ground for expanding economic ties as well.
Aliyev also referred to the history of cooperation between Azerbaijan and Georgia in the energy field saying that the main export pipeline which transports Azerbaijan's oil and gas through the Georgian territory is a good example of the good relationships between two sides. "During our meeting, we also discussed our plans for energy diversification in future," he said.
Azerbaijani leader also referred to the contract of the 21st century signed in Baku on December 2013 adding that the project is a major infrastructure and energy project in Europe. "Azerbaijan, Georgia, our partners and friends in the region will do our best to accomplish this historic project. The total investment will amount to $45 billion," he said.
Aliyev stressed that there is an appropriate ground to expand economic relations and increase mutual trade. "The level of our trade turnover can grow. There are good opportunities for mutual investments. We will evaluate the details of possible investments in Georgia. Azerbaijani companies have begun investing in infrastructure, energy and transport sectors in Georgia. This also applies to the industrial sector," he said.
The president called the transportation as an important part of cooperation between two sides. He said Azerbaijan and Georgia are working on the project which will connect the regions with other parts of the world.
The two presidents also discussed cooperation in humanitarian field. "Georgians and Azerbaijanis have always lived in an atmosphere of peace and friendship throughout the history," Aliyev stressed.
"Georgians in Azerbaijan and Azerbaijanis in Georgia are our great wealth. Their lives and activities are obviously important for our bilateral ties."
Territorial integrity of Azerbaijan and Georgia was among the main issues discussed by two presidents. Aliyev stressed that the two countries support each other regarding territorial integrity. He said the territorial integrity of Georgia and Azerbaijan as well as international legal norms have been grossly violated.
For his part, Margvelashvili said the two countries are moving in the right direction of a peaceful solution of the regional conflicts. He said the way to solve these problems passes through further improving the welfare of the regional countries and implementing joint important projects.
Margvelashvili also said Georgia and Azerbaijan have always done their best to deepen bilateral relations and pave the way for a better future.
"Joint projects give us the best opportunities not only to make a promising future for our country but also for the region. Therefore, partnership between our countries and our commitment to jointly implemented energy and transport projects provide us with an opportunity to make a better future for millions of people in the region and the world," he said.
The Georgian leader noted that Azerbaijan is extremely important for Georgia not only in terms of large-scale projects, cooperation in the field of oil and gas and transport but also in terms of cultural, scientific and human relations.
He said Georgia is eager to see high-ranking official visits of two countries in future. "We sincerely wish to host President Aliyev in Georgia. We wholeheartedly wish further improvement of lifestyle of Azerbaijanis in Georgia and Georgians in Azerbaijan," Margvelashvili noted.
He also added that when back home, he will meet with Azerbaijani compatriots during Novruz holiday. "I will celebrate this holiday with them," Margvelashvili concluded.
Giorgi Margvelashvili within the visit to Azerbaijan visited the Heydar Aliyev Center, the National Flag Square and Icheri Sheher in Baku on February 13.
He also visited Gakh region of Azerbaijan and met with local Georgians. After he visited the city of Gabala.
Related News