More Azerbaijanis get married in 2013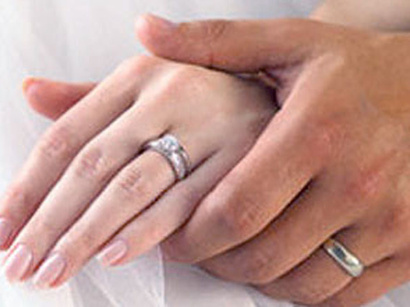 By Jamila Babayeva
The number of marriages increased by 10.3 percent in 2013 compared with the figure in 2012, and reached 86 594, Justice Ministry's General Department of Registration and Notary reported.
The department reported that the number of divorced also increased and hit11, 849. The figure was 11,182 in 2012.
Moreover, the number of newborns increased by 3.3 percent and reached 173.666 in 2013. In Azerbaijan 168.183 children were born in 2012.
The number of deaths last year fell by 1.5 percent to 54,504 compared with the figure in 2012. The figure was 55,322 in 2012.
The number of applies to the appropriate structures for paternity increased by 7,8 percent and reached to 27,453. The figure was 25,478 in 2012.
The number of people applied for changing name and surname also increased during the reported period. The figure increased by 58.7 percent compared with 2012 and reached to 1,731.
Totally, 3 562 659 notarial operations were registered in 2013. The number decreased by 19 percent compared with 2012.
Some 71 percent (2,546,328) of operations accounted for special notaries, and 1,016,331 (29 percent) of the share of public notaries. Increasing number of notarial operations in special notaries is explained ASAN Service's activity.
ASAN Service center under the State Agency for Public Service and Social Innovations under the President of the Republic of Azerbaijan was established by the Decree of the President in 2012.