2 December 2013 16:28 (UTC+04:00)
5 655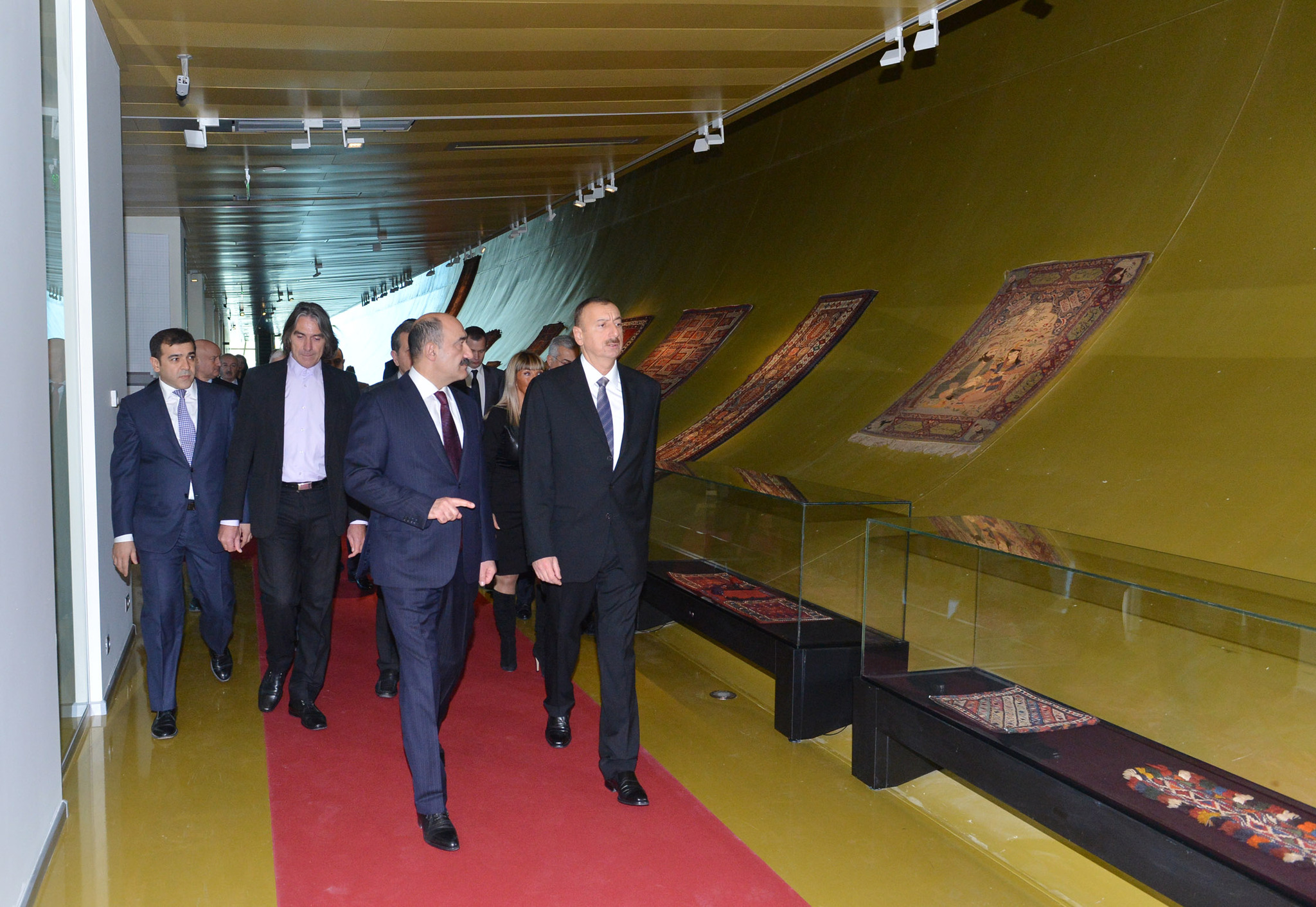 By Aynur Jafarova
Azerbaijani President Ilham Aliyev observed the arrangement of exhibitions at the new building of the State Museum of Azerbaijani Carpet and People Applied Arts.
Culture and Tourism Minister Abulfas Garayev informed the president that the new building was designed by world-famous Austrian architect Franz Janz for organizing exposition exhibitions, developing educational programs, safeguarding intangible cultural heritage, expanding international relations, and implementing joint projects.
President Aliyev also toured the building.
The museum has the shape of a rolled carpet, and the new building is a mix of European and Eastern architectural styles. The five-storey building has working rooms, a souvenirs shop, an exhibition area, a 120-seat cafe, halls, an interactive information system, and an auditorium.
The museum currently holds more than 15,000 unique exhibits, and its gold fund consists of wonderful piled carpets, which represent Azerbaijan's seven main carpet schools with all their compositions.
The museum also holds pileless carpets, unique examples of jewelries created in various regions of Azerbaijan in the 19th, 20th centuries, metal works, embroidery arts, clothes, national dresses, and others.
The museum will play a significant role in attracting foreign tourists to Azerbaijan. Tourists will be able to buy restored ancient Azerbaijani carpets there.
The art of carpet-weaving is one of the ancient crafts in Azerbaijan. For centuries, the Land of Fire has been famous for its unique carpets, which are exhibited in many world museums such as the Louvre in Paris, the Hermitage in Saint-Petersburg, the Victoria and Albert in London, the Textile in Washington, the Topkapi in Istanbul, and many others.
Azerbaijan's carpet was proclaimed a Masterpiece of Intangible Heritage by UNESCO in November 2010.
The Azerbaijan State Carpet Museum, the first carpet museum in the world, was founded in 1967 in Baku. It was located in the Juma Mosque in the Old City at first, but was later moved to the former Lenin Museum in 1992.
The current carpet museum is named after well-known Azerbaijani scientist Latif Karimov, who is the founder of the carpet study and carpet-making history of Azerbaijan.
Related News