Azerbaijani children in Denmark to study native language at school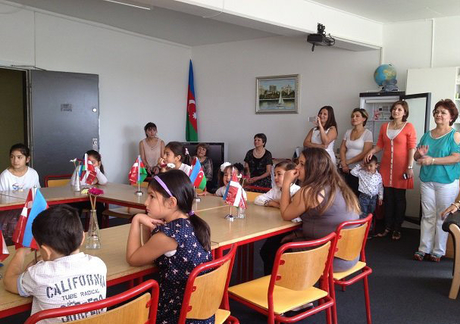 By Nigar Orujova
A school for Azerbaijani children called "Mother tongue" opened in Copenhagen, Denmark.
Supported by the State Committee for Work with Diaspora, the school was organized by the "Veten" society, and aims to teach the Azerbaijani children and youth Azerbaijani history, geography and culture, along with Azerbaijani language.
Addressing the opening ceremony, chairman of the Society Safar Sadigi stressed the importance of the school, and thanked the Azerbaijani Embassy in the UK and State Committee for Work with Diaspora for their support.
Sadigi said this school will enable the students to tell more about Azerbaijan to their Dane friends.
Classes in the school will be held once a week on Saturdays at 10.00 a.m.
This is not a single opportunity for Azerbaijani children to study their language abroad. In March, Azerbaijani language, history, culture and geography courses were organized for Azerbaijani children aged 4-13 living in Paris and its suburbs at the cultural center of the Azerbaijani embassy in France.
Moreover, soon anyone will also have the opportunity to study Azerbaijani language by means of courses to be organized in Azerbaijan's diplomatic missions abroad.
According to the state program, in order to develop the study of Azerbaijani language, proposals to organize the self-financing language courses for foreign citizens, representatives of diasporas and all those interested will be prepared until 2015.
The Azerbaijani language, which belongs to the ancient Turkic group of languages, was declared the official language of the Azerbaijan Republic, which currently has a population of over 9 million people, by holding a nationwide referendum in 1995.