Conference on security highlights Azerbaijan's role as NATO partner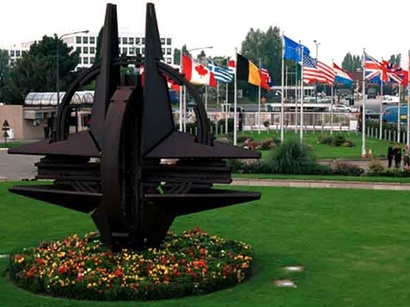 By Aynur Jafarova
A NATO conference on emerging security challenges held in Baku highlighted traditional areas in which Azerbaijan is a key partner of the alliance.
"This is, for instance, the situation in Afghanistan where Azerbaijan supports NATO and is also contributing to the stabilization in the country, even after 2014. Moreover, there are a number of new areas which are the subject matters of the conference," NATO Assistant Secretary General for Emerging Security Challenges, Gabor Iklody, told journalists in Baku on May 23.
The NATO Partnership Conference, titled "Emerging Security Challenges: Enhancing Energy Security in the 21st century", was held at the Azerbaijan Diplomatic Academy (ADA) on May 22-23.
According to Iklody, there are important challenges and it is necessary to find resourses to resolve them.
NATO and Azerbaijan are actively cooperating on democratic, institutional and military reforms, as well as on the issues of conducting practical cooperation in various areas. The program of cooperation between Azerbaijan and NATO is set out in the Individual Partnership Action Plan (IPAP) on Azerbaijan.
Azerbaijan aspires to achieve Euro-Atlantic standards and draw closer to Euro-Atlantic institutions. In this regard, support for security sector reform and creation of democratic institutions are the key elements of the cooperation between NATO and Azerbaijan.
The NATO conference was attended by Azerbaijani Deputy Foreign Minister, ADA principal Hafiz Pashayev, Romanian Ambassador to Azerbaijan Daniel Christian Ciobanu, head of the Energy Security Section in the Emerging Security Challenges Division of NATO, Michael Ruhle, as well as US Ambassador to Azerbaijan Richard Morningstar.
The two-day conference was co-organized by the Caspian Center for Energy and Environment of ADA, NATO's Emerging Security Challenges Division, Azerbaijan's Ministry of Foreign Affairs, the US Department of State and the Embassy of Romania to Azerbaijan.
Baku's Euro-Atlantic policy
According to Azerbaijan's representative to NATO Khazar Ibrahim, Azerbaijan's Euro-Atlantic policy will be successfully continued.
The cooperation between Azerbaijan and NATO covers a variety of areas, including security, emergency situations, mine clearance and military reform, Ibrahim told journalists in Baku on May 23.
According to him, Azerbaijan continues contributing to the restoration of peace and stability in Afghanistan. This work will be expanded after the Baku-Tbilisi-Kars railway is launched. The project will significantly expand Azerbaijan's transit opportunities, the ambassador said.
A NATO delegation intends to visit Baku in the near future to discuss opportunities for further cooperation with the government, Ibrahim said.
Furthermore, Ibrahim said Azerbaijani peacekeepers will stay in Afghanistan after the withdrawal of US troops from the country by the end of 2014.
Azerbaijan is among the eight partner countries that have confirmed their presence in Afghanistan after 2014, he said.
Ibrahim said, however, that after 2014 Azerbaijan will reduce its contingent in Afghanistan.
"The name and essence of the mission will be changed. A concept for the operations will be prepared. Two respective documents are being developed by NATO after which the countries will define the contribution they will make -- it will be trainings, anti-mine action or supply of equipment," he said, adding that training and support will be organized for Afghan forces.
The Azerbaijani peacekeeping contingent in Afghanistan has 90 servicemen. A company was established as part of the Azerbaijani armed forces in 1997 and then a battalion of peacekeepers. Azerbaijani peacekeepers are part of the International Security Assistance Force (ISAF) in Afghanistan.
In the past, the country actively supported operations of the alliance in Kosovo.
Shah Deniz gas export decision
According to the US ambassador to Azerbaijan, Azerbaijan will play an even more important role in ensuring the European Union's security after the consortium developing the giant Shah Deniz gas condensate field located in Azerbaijan's sector of the Caspian Sea makes a final decision on the gas transportation route to Europe.
"Beyond opening a new pipeline, Azerbaijani gas will become even more important for European energy supplies," Morningstar told journalists.
The Shah Deniz consortium is considering the Trans Adriatic Pipeline (TAP) and Nabucco West pipeline route for gas export. The consortium will make its final decision in June and a final investment decision by October 2013.
The TAP project is designed to transport gas from the Caspian region via Greece and Albania and across the Adriatic Sea to southern Italy and further into Western Europe. TAP's initial capacity will be 10 billion cubic meters per year, but it is easily expandable to 20 billion cubic meters.
Nabucco West, a short-cut version of the Nabucco project, which envisages construction of a pipeline from the Turkish-Bulgarian border to Austria, and TAP are part of the Southern Gas Corridor, a priority energy project for the EU. The Southern Gas Corridor aims at diversifying the routes and sources of energy supply, thereby increasing secure delivery.
The gas which will be produced during the second stage of Shah Deniz field development is considered as the main source for the Nabucco West and TAP projects.
"There are other projects," Morningstar added. "There will be much more Azerbaijani gas. Hopefully, there will be also Turkmen gas. So, there will be a significant amount of gas coming from the Caspian region."
He went on to say that NATO, as well as the U.S., works in close cooperation with Azerbaijan on the issues of energy security and infrastructure protection.
"Azerbaijan understands this issue and we are looking forward to working with it," Morningstar said.
He also stressed that the cooperation between NATO and Azerbaijan is very important. According to him, energy security involves many different issues.
"It is not just a threat of a terrorist attack, which obviously is a concern. There is also the problem of natural disasters such as earthquakes, cyber security and other issues," he said.