Cybercrime fight discussed in Baku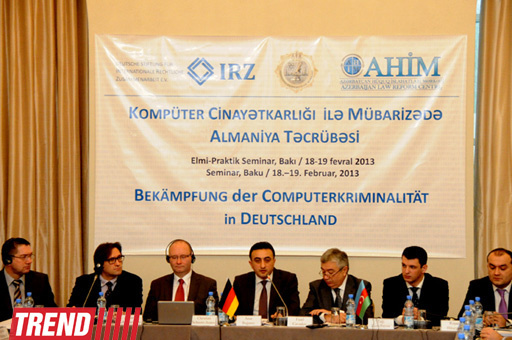 By Nigar Orujova
Today no economic sector can be imagined without information and communication technologies, Forensic Exeprtise Center head Fuad Javadov said opening a cybercrime research and practice workshop in Baku on Monday.
Combat against cybercrime was discussed in the Azerbaijani capital in the frame of the two-day workshop "German experience in the fight with cybercrime", which concluded on Tuesday.
The workshop, jointly organized by the Azerbaijan Legal Reform Center Public Association, Forensic Investigation Center of Azerbaijan's Justice Ministry, and German Federal Ministry of Justice's Foundation for International Legal Cooperation, was aimed to develop the professional skills of Azerbaijani law enforcement agencies' staff and experts and increase knowledge in the sphere.
The development of ICT leads to the emergence of new threats, cybercrime, which gradually assume a transnational scale. Thus, the fight against such crimes should be stepped up, according to Javadov.
2013 was declared the ICT year in Azerbaijan. According to Anar Baghirov, chairman of the Legal Reform Center, in this connection special attention will be paid to the fight against cybercrime.
Azerbaijani legislation is being adapted to the requirements of the European Convention on Cybercrime, Baghirov said at the seminar.
Baghirov noted that Azerbaijan joined the Convention in 2009 and significant reforms have been conducted since then to combat cybercrime in the country. Lawyers play an important role in these efforts. New relevant provisions have been added to the Criminal Code and work in this area is underway.
"The relevance of the fight against cybercrime has recently increased not only in Azerbaijan, but also around the world," he said. "The number of Internet users is increasing year on year; the number of cyber threats is simultaneously rising. According to recent data, over 500 million people become victims of cyber threats worldwide each year. Taking this into account, one of the main objectives is to raise forensic science and law enforcement employees' professionalism."
The University of Information Technologies, which was established under a presidential order earlier in February, may make a significant contribution to resolving this issue. Issues of the fight against cybercrime were also specified in the "Azerbaijan-2020" development concept.
Financial sector at risk
Azerbaijan's financial sector is most at risk in cyberspace, Natig Panahov, Forensic Investigation Center's chief expert, told journalists on Monday.
According to Panahov, the problems in this area mainly relate to non-cash payment transactions carried out with the use of plastic cards. Another very topical issue is information theft.
"In 2012, addenda which helped to strengthen the fight against cybercrime were made to the Azerbaijani Criminal Code. It is known that cybercrime has become topical around the world and therefore it does not bypass Azerbaijan either.
"Certainly, compared to other countries, the number of crimes in Azerbaijani cyberspace is not so great. Nevertheless, as the country's integration into the international community progresses, this problem will become more topical," Panahov said.
Currently the number of experts in this field is being increased in Azerbaijan, but there is still much to learn from advanced countries, Panahov believes.
Cologne court judge Jens Shiminovski reported on the forms of cybercrime, international norms on computer crime fight, as well as regulation of the issue by the German legislation.
Shiminovski described in detail the work done to fight cybercrime in Germany based on respective international agreements and noted that cybercrime is a worldwide problem.
Cybercrime is a criminal activity done using computers and the Internet, which includes anything from downloading illegal music files to stealing millions of dollars from online bank accounts. Cybercrime also includes non-monetary offenses, such as creating and distributing viruses on other computers or posting confidential business information on the Internet.