Azerbaijan's first satellite to be launched today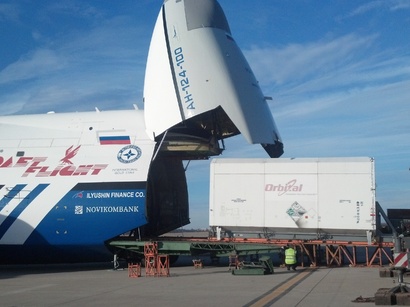 Orbital Sciences Corporation, one of the world's leading space technology companies, announced today that it is in final preparations for the launch of the Azerspace/Africasat-1a commercial communications satellite for Azercosmos, Open Joint Stock Company of the Ministry of Communications and Information Technologies of Azerbaijan, Embassy of Azerbaijan to the U.S. reported.

Designed, manufactured and tested at Orbital's Dulles, Virginia satellite production facilities, Azerspace/Africasat-1a is scheduled to be launched aboard an Ariane 5 rocket from Kourou, French Guiana on Thursday.

Following its launch, the satellite will undergo in-orbit testing and verification that all subsystems are operating as planned. Once testing is complete and the spacecraft is positioned at its orbital location, day-to-day operations of Azerspace/Africasat-1a will be handed over to Azercosmos, which will continue to operate the spacecraft from its control centers in Baku and Nakhchivan, Azerbaijan. These facilities were designed and built by Azercosmos to support the installation of the ground control systems provided by Orbital, including ground antennas, radio-frequency electronics, computer platforms, and the software used to command, monitor and control the Azerspace/Africasat-1a satellite.

"The launch of Azerbaijan's first telecommunications satellite marks an important milestone in the successful partnership with U.S. industry and the Government of Azerbaijan," said Azerbaijani ambassador to the United States Elin Suleymanov. "We look forward to the launch of the satellite, which will address current and future communications needs of Azerbaijan, the Caucasus Region, Central Asia, Europe and Africa."

With an anticipated service life of 15 years, Azerspace/Africasat-1a is based on Orbital's flight-proven GEOStar-2 platform. The hybrid C- and Ku-band satellite will generate approximately five kilowatts of payload power and carry 36 active transponders, providing communications services to Azerbaijan, Europe, Africa, Middle East and Central Asia. Azerspace/Africasat-1a will operate from an orbital location at 46 degrees East longitude through an arrangement between Azercosmos and MEASAT Satellite Systems of Malaysia, which owns the rights to the orbital slot.

"The Azerspace/Africasat-1a satellite is a critical component for the Republic of Azerbaijan to expand its communications infrastructure and enhance connectivity with other parts of the world," said Christopher Richmond, Orbital's Senior Vice President of Communications Satellites. "This is the tenth GEOStar-2 satellite we've built in the last two years. We are now finishing our preparations and gearing up for a successful launch."

Orbital's customer for the Azerspace/Africasat-1a satellite is Azercosmos. Incorporated in 2010, Azercosmos is the premier satellite operator in both Azerbaijan and the Caucasus region. It will provide satellite-delivered communications services and highly reliable satellite platforms to broadcasting, broadband, and government customers with the launch of Azerspace/Africasat-1a and other forthcoming satellite projects.

The Azerspace telecommunications satellite of Azerbaijan is designed to provide digital broadcasting, Internet access, data transmission, creation of VSAT multiservice networks and governmental communications.

The center is located in the Guzdek settlement, Garadagh district of Baku.