WHO ranks Azerbaijan 38th on alcohol use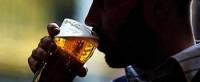 The World Health Organization has ranked Azerbaijan 38th among 188 countries on the number of alcoholic beverage drinkers.
In a report, WHO said Azerbaijanis above age 15 drink an average of 10.6 liters per year.
87 percent of the Azerbaijani drinkers prefer beer, with average consumption being 7 liters per year.
Wine is the second most popular alcoholic drink in Azerbaijan, which is preferred by 12 percent of the drinkers. Vodka and other types of hard liquor are preferred by only 1 percent. Average annual consumption of vodka is 1 liter per person, WHO said.
In the South Caucasus region, Azerbaijan ranked second on alcohol consumption. In Armenia, which was rated 31st in the world, 11.35 liters of alcoholic drinks per person are consumed every year. Georgia, with annual consumption of 6.4 liters, received the 87th ranking.
Azerbaijan may be considered the most drinking country with Muslim population, next only to Kazakhstan. The Central Asian state, where an average of 10.96 liters per person is consumed, surpassed Azerbaijan on alcohol consumption levels by only 360 grams.
'Most drinking country'
Moldova is "the most drinking country" in the world, according to WHO. 18.22 liters of alcoholic drinks per person are consumed there annually.
Also in the top five are the Czech Republic with consumption level of 16.45 liters, Hungary with 16.27 liters, Russia with 15.76 liters, and Ukraine with 15.6 liters.
Alcoholism is among the top causes of death worldwide, with 4 percent of deaths resulting from addiction to alcohol.