Beer favored by Azeri drinkers: WHO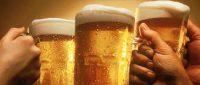 BAKU – An average of 10.6 liters of alcoholic beverages per capita is consumed in Azerbaijan annually by adults aged above 15, the World Health Organization has said, rating the country 38th among 188 countries on the amount of consumed alcohol.
87 percent of alcohol beverage consumers in Azerbaijan prefer beer (an average of 7 liters per person), followed by wine, which is consumed by 12 percent of drinkers (30 grams per person), WHO said in its Global Status Report on Alcohol and Health.
Vodka and other alcoholic drinks are favored by only 1 pct (1 liter per person) of drinkers in Azerbaijan.
Among the three South Caucasus countries, Azerbaijan ranked second in the "alcohol rating". In Armenia, which ranked 31st in the world, 11.35 liters of alcoholic drinks per year are consumed. In Georgia, Azerbaijan's other neighbor in the region, 6.4 liters are consumed, which makes it 87th on the list.
The United Nations agency's report also said that Azerbaijan could be seen as "the most drinking country" among the Muslim population, though Kazakhstan surpasses Azerbaijan in the rating by 360 grams, with 10.96 liters consumed.
Moldova was regarded as "the most drinking country" in the world, with average adult per capita consumption estimated at 18.22 liters per person. Also in the top ten are the Czech Republic (16.45 liters), Hungary (16.27 liters), Russia (15.76 liters), and Ukraine (15.6 liters), according to WHO's first report on alcohol since 2004.
WHO said alcohol causes nearly four per cent of deaths worldwide, more than AIDS, tuberculosis or violence.
It said rising incomes have triggered more drinking in heavily populated countries in Africa and Asia, including India and South Africa, and binge drinking is a problem in many developed countries.
Yet alcohol control policies are weak and remain a low priority for most governments despite drinking's heavy toll on society from road accidents, violence, disease, child neglect and job absenteeism, the report said.
About 2.5 million people die each year from alcohol-related causes, WHO said.
"The harmful use of alcohol is especially fatal for younger age groups and alcohol is the world's leading risk factor for death among males aged 15-59," the report found.
In Russia and the Commonwealth of Independent States, every fifth death is due to harmful drinking. Binge drinking, which often leads to risky behavior, is now prevalent in Brazil, Kazakhstan, Mexico, Russia, South Africa and Ukraine, and rising elsewhere.
Alcohol is a causal factor in 60 types of diseases and injuries, WHO said.