Azerbaijan, Saudi Arabia seek to develop strong strategic relations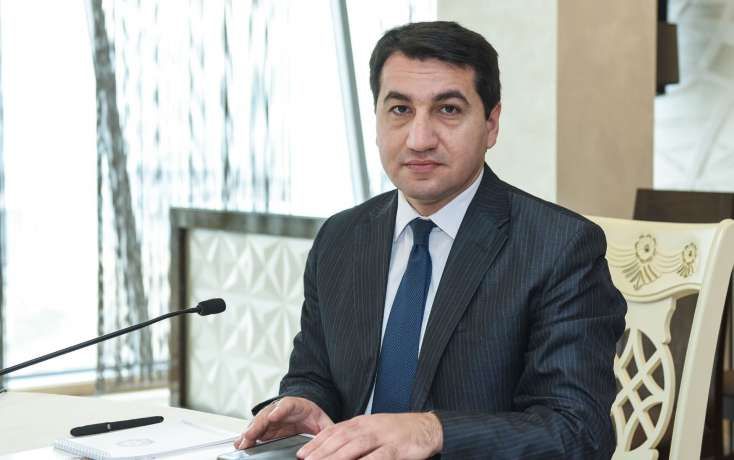 Azerbaijan is working on establishing strong strategic relations with Saudi Arabia, which it regards as a friendly and brotherly state, Azernews reports.
Hikmet Hajiyev, Assistant to the President of Azerbaijan and Head of the Foreign Policy Department of the Presidential Administration, said this in an interview with Asharq Al-Awsat.
According to him, relations between the two countries are of a friendly, brotherly, and partnership nature.
The recent visit of the Head of the Presidential Administration's Foreign Policy Department to Saudi Arabia comes against the backdrop of strengthening bilateral relations between the two countries, plans to further develop cooperation in various fields, and explore new opportunities for this.
"The Azerbaijani people highly appreciate the firm position of our brotherly country, Saudi Arabia, in condemning Armenia's military aggression against Azerbaijan," he noted. In turn, Azerbaijan unequivocally condemns attacks on Saudi Arabia with missiles and drones, considering them unacceptable.
According to the Azerbaijani presidential aide, relations between Baku and Riyadh are on a growing trajectory.
"Tourism is one of the important sectors for us - the number of direct flights between Azerbaijan and the Kingdom is growing," Hajiyev said.
According to statistics, about 100,000 Saudi nationals visited Azerbaijan in 2022.
"We expect further progress in relations, seek to further develop cooperation with Saudi Arabia in economic and trade sectors, growth of investments and ties in areas such as agriculture and food security," Hajiyev said, highlighting expectations of active participation of Saudi companies in projects to restore liberated lands of Azerbaijan.
According to the presidential aide, cooperation is also expected to deepen in the renewable energy sector, including through the activity of Saudi ACWA Power investing in Azerbaijan.
He emphasized that being an exporter of traditional energy resources - oil and gas, Azerbaijan is striving to ensure its energy security in the future, and as President Ilham Aliyev announced, the country is currently striving to increase the production and export of green energy.
"Azerbaijan has huge potential in this field," Hajiyev said, adding that work is underway to expand international cooperation in this direction.
Commenting on the possibility of Azerbaijan joining OPEC, the head of the Foreign Policy Department noted that the country is already a member of OPEC+, within the framework of which it cooperates with Saudi Arabia and tries to contribute to the stability of oil prices in the world to ensure a proper balance between supply and demand.
"We are actively cooperating within this format. In this regard, frequent mutual visits, meetings and consultations between our energy ministers are of great importance," Hajiyev explained.
He said the two countries support each other within the framework of the Non-Aligned Movement, the Organisation of Islamic Cooperation and other international institutions. "We highly appreciate Saudi Arabia's role in strengthening Azerbaijan's ties with the countries of the Gulf Cooperation Council (GCC) and the Arab League."
There is a memorandum of understanding outlining the mechanism of consultations between the GCC General Secretariat and the Azerbaijani Foreign Ministry, the aide noted.
"We can participate in security dialogue between the Gulf States and Azerbaijan to address regional and international security issues. In addition, we envisage further cooperation in the sphere of economic and trade relations, humanitarian interaction," he said in the interview.
Answering a question about relations with Iran, Hajiyev noted that Iran is Azerbaijan's neighbour. Azerbaijan maintains relations with its neighbours based on the principles of mutual respect for territorial integrity, sovereignty and non-interference in internal affairs.
"Azerbaijan and Iran have historical ties in the neighbourhood, but the recent attack on the Azerbaijani embassy in Iran and the killing of its employee has led to tension in our relations," he noted, adding that diplomatic channels between the two countries are currently engaged, with visits of relevant Iranian officials to Azerbaijan. "Dialogue continues at the level of foreign ministries to remove this tension and misunderstanding," Hajiyev noted.
---
Follow us on Twitter @AzerNewsAz