Update of deadly terror attack on Azerbaijani embassy in Tehran [VIDEO]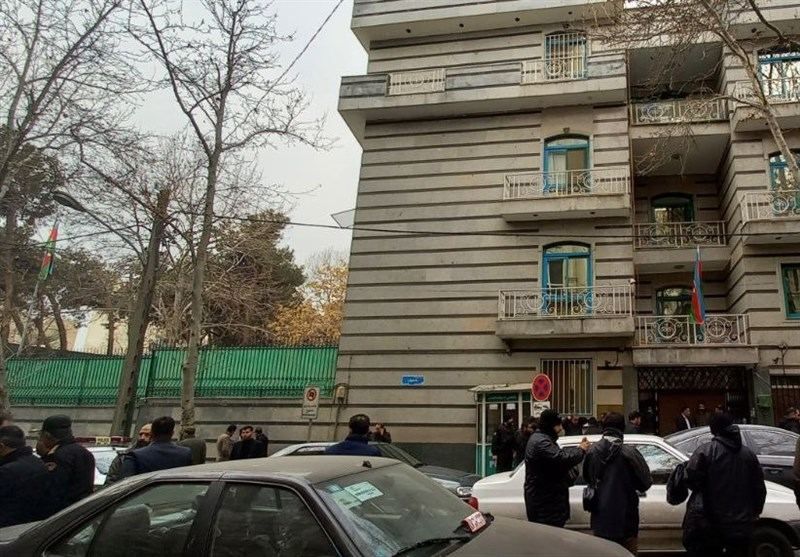 Early this morning, in a brutal terror attack on the Azerbaijani embassy in Tehran, the chief of the embassy security guard was killed and two others were wounded.
Further, the Tehran police said that the attacker, who was later identified as a 50-year-old man, was detained. Besides, the identities of the victims of the attack have been revealed. This way, a 43-year-old embassy employee was killed, and two employees aged 30 and 35 were injured, one in the arm and one in the leg.
According to preliminary investigation, he drove up to the administrative building in a car together with two young children: a 14-year-old girl and a 7-year-old boy. He entered the embassy building, opening fire right at the entrance to the building. Saying that he was unarmed, the attacker threatened the guard standing at the door and entered the embassy. He started shooting towards the entrance gate of the embassy.
The victims were taken to the hospital by ambulance, and law enforcement officers and rescuers immediately arrived at the scene.
According to an informed source, the terrorist was planning to kill all the embassy staff if the embassy security did not prevent the attack.
Speaking about the attack, an embassy employee, who tried to stop the attacker, talked about the moment of death of the head of the security service of the embassy, ​​Orkhan Asgarov, while repelling the terror attack.
Chief of the Tehran police Huseyn Rahimi said that the police immediately launched an operation and detained the attacker, and the investigation is continuing.
The attacker cited personal and family problems as a motive for the attack.
The police in the area of the attack on the Azerbaijani embassy in Tehran made no attempt to prevent the terror attack and no operational activity is currently being observed.
The video below shows that an Iranian law enforcement officer is inactive. As can be seen from the video footage, there are no children near the attacker, as reported by the Iranian police earlier, and he did not attack the Iranian policeman standing at the door.
---
Follow us on Twitter @AzerNewsAz