Aliyev sees 8th Istanbul summit as historic for entire Turkic world [UPDATE]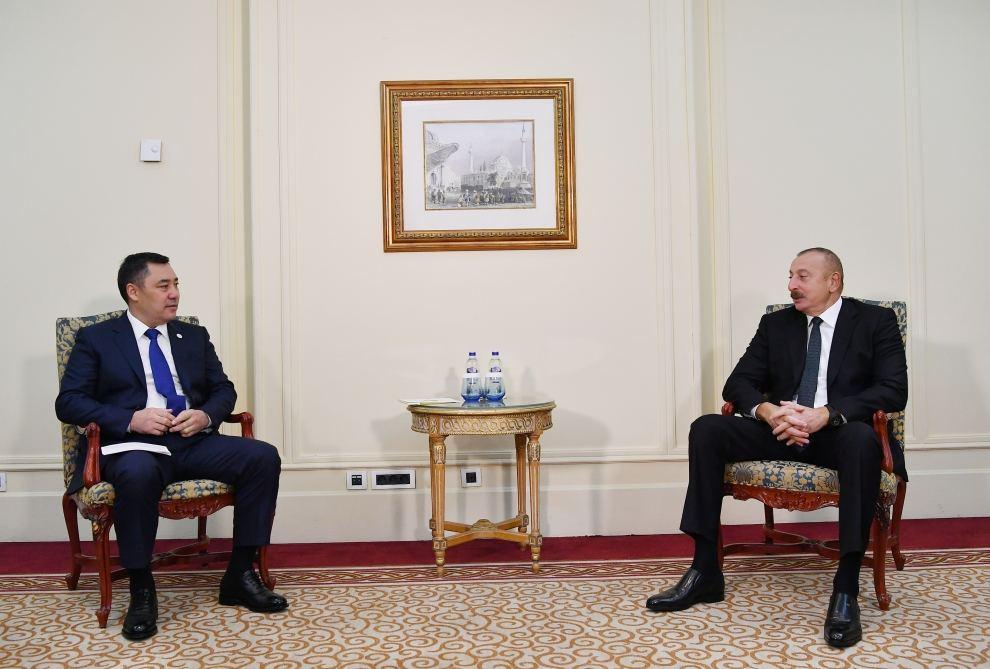 By Vafa Ismayilova
Azerbaijani President Ilham Aliyev has described as historic the significance of the 8th Summit of the Cooperation Council of Turkic Speaking States for the entire Turkic world, Azertag reported on November 12.
He made the remarks at a meeting with his Kyrgyz counterpart Sadyr Japarov held on November 12 on the sidelines of the Istanbul-hosted summit.
"We are transforming into an organization, and, of course, this Summit will be of historic importance for the entire Turkic world and for our countries. This is also a good opportunity to talk about bilateral relations between our countries. We look forward to active interaction on a wide range of issues – political and economic issues, as well as those related to the humanitarian sphere. I think there is good potential on the entire spectrum of issues," he stressed.
President Aliyev expressed his pleasure over the meeting with the Kyrgyz counterpart.
"It is very nice to see you. This is our first meeting. I am sure there will be many such meetings in the future. It is quite remarkable that we are meeting on the sidelines of our Turkic Council event," he said.
The Azerbaijani leader recalled the earlier meetings of the Azerbaijani and Kyrgyz foreign ministers.
" I think we will give a good impetus to the further development of our ties for the benefit of our countries and peoples so that cooperation between our countries is full and focused on the final result," he said.
Kyrgyz President Sadyr Japarov thanked Azerbaijan for providing 40,000 doses of the AstraZeneca vaccine in humanitarian aid to Kyrgyzstan.
"Taking this opportunity, I would like to express my gratitude to you for providing humanitarian aid in the form of 40,000 doses of the AstraZeneca vaccine. Not being a vaccine manufacturer and using its own supplies, Azerbaijan made this valuable gesture. I regard all this as a manifestation of friendship and brotherhood, " he said.
Japarov stressed that his country is always happy with the successes and achievements of the brotherly Azerbaijani people.
He underlined that thanks to Aliyev's wise policy, Azerbaijan had significantly strengthened its international position in the world.
The Kyrgyz leader underlined the relations between the two countries are based on strong bonds of friendship and brotherhood arising from a common history, culture, language, spiritual and religious values.
The sides also discussed issues related to expanding trade and economic relations, strengthening the ties between the two countries in the field of investment, energy, transport and other sectors, as well as within the international organizations.
--
Follow us on Twitter @AzerNewsAz