Azerbaijan, Serbia discuss economic ties, Karabakh war [UPDATE]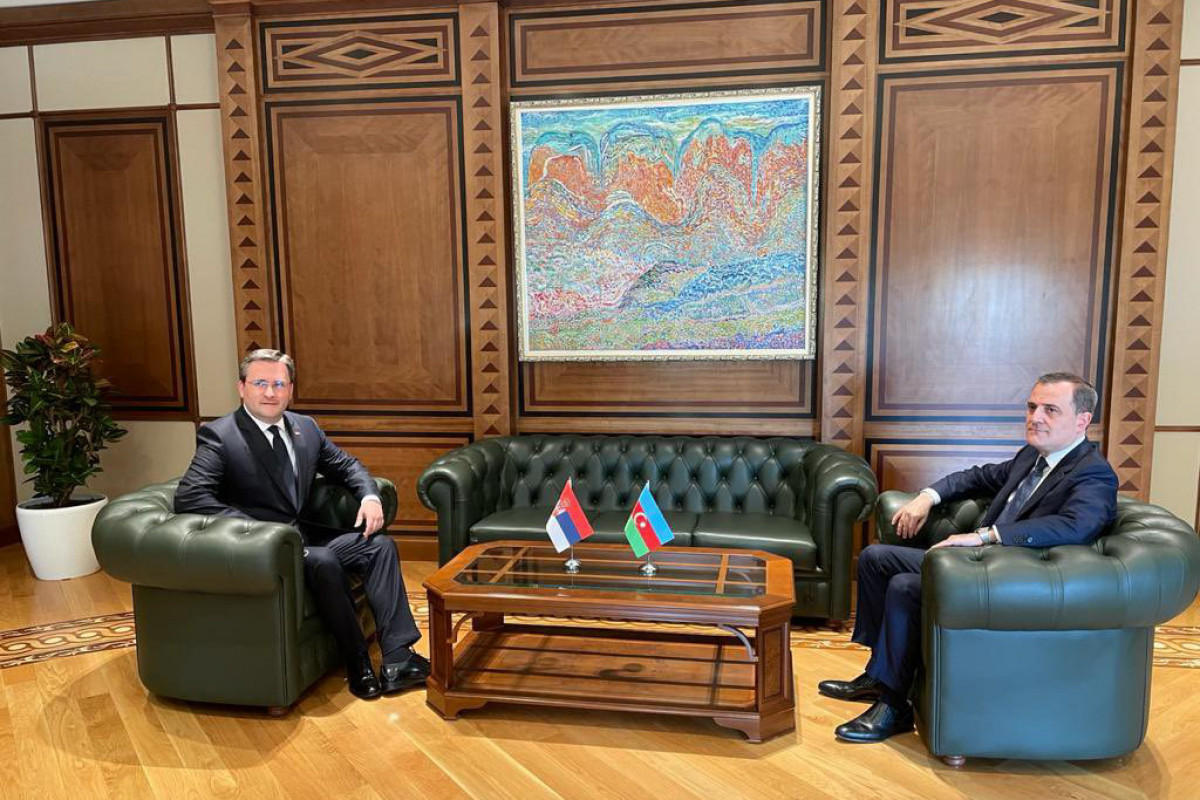 By Vugar Khalilov
Azerbaijani Foreign Minister Jeyhun Bayramov met with Serbian Foreign Minister Nikola Selakovic on July 26 during the latter's two-day visit to Baku.
The two sides discussed the work of the Serbia-Azerbaijan Intergovernmental Economic Commission, Bayramov said that the Intergovernmental Commission's session would be held on July 27 followed by a Business Forum.
During the presser following the meeting, Selakovic thanked Azerbaijan for humanitarian assistance to Serbia during the coronavirus pandemic.
"Serbia will never forget the support of Azerbaijan, rendered to it in difficult days. This is a clear example of sincere friendship," Selakovic said.
In turn Bayramov said that "an increase in trade turnover has been observed between the two countries and the issue of its further increase is being discussed." In Bayramov's words, the issue of expanding cooperation between Azerbaijan and Serbia within the international organizations was also discussed.
Bayramov also said that he and his counterpart held discussions over the restoration of Azerbaijan's liberated lands. "After the liberation of our lands [from the Armenian occupation], a new situation arose in the region and a lot of work is underway to restore these territories," the Azerbaijani minister said.
Armenia's destructive stance
Speaking about the hostilities between Azerbaijan and Armenia, Bayramov stressed that Armenia has taken a non-constructive position on the issue of establishing sustainable peace in the region.
"Azerbaijan is doing necessary work to ensure sustainable peace in the region, taking all steps on a peace treaty… But, unfortunately, the Armenian side does not demonstrate a constructive position on this issue."
"Such an attitude strikes a blow at peace and progress in the region. By using the current situation correctly and observing the international laws, it is possible to establish sustainable peace in the region," the FM went on saying.
Reminding that a number of provisions of the trilateral statements adopted by the leaders of Azerbaijan, Russia and Armenia on November 10 and January 11, have been implemented, Bayramov said that "the destructive position being taken by Armenia prevents full implementation."
Bayramov sited Armenia's refusal to hand over maps of all mine fields in Azerbaijan's newly-liberated territories, as an example of Armenia's non-constructive position.
"If military operations have ended an agreement was reached, minefield maps must be handed over," the minister stressed.
The Serbian Foreign Minister is on a two-day official visit to Azerbaijan. He was received by President Ilham Aliyev on July 25.
It should be noted that Azerbaijan's trade turnover with Serbia tripled in 2021. The trade turnover between the two countries amounted to $4.2 million during the first four months of the year. In addition, total turnover between Azerbaijan and Serbia in 2020 amounted to $9 million.
The two countries signed the Declaration on Strategic Partnership in 2013 and the Joint Strategic Partnership Action Plan in 2018.
---
Follow us on Twitter @AzerNewsAz