Azerbaijani, Georgian presidents hold expanded meeting [UPDATE]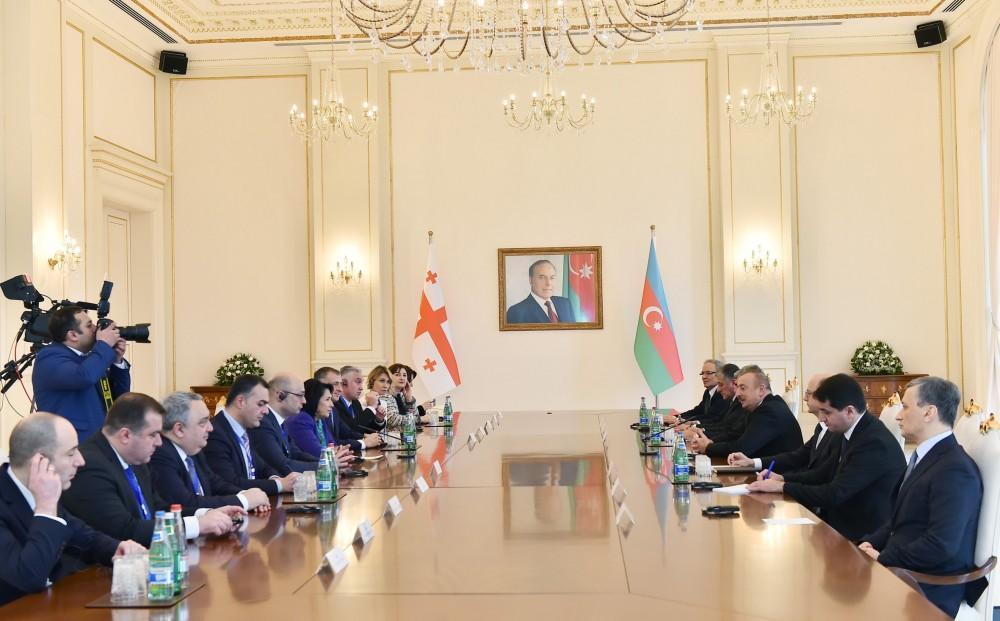 Following the one-on-one meeting, President of the Republic of Azerbaijan Ilham Aliyev and President of Georgia Salome Zourabichvili were joined by their delegations for a meeting in an expanded format.
The presidents made speeches at the meeting.
President of Azerbaijan Ilham Aliyev said:
- Dear Madam President, distinguished guests! Let me sincerely welcome you again. Welcome to Azerbaijan!
We attach great importance to your visit. I have congratulated Madam President on her victory in the presidential election. I am very pleased that after a short time, Madam President is visiting Azerbaijan. This is an excellent indicator.
In a one-on-one meeting today, we discussed many issues. We discussed regional problems, our bilateral and multilateral cooperation. We were once again convinced that our positions overlap on all the issues. I am sure that this visit will be an important step for the development of Georgian-Azerbaijani relations. So far we have resolved many issues together. Georgia and Azerbaijan are close friends and fraternal countries. We have lived in the atmosphere of good neighborliness for centuries and are successfully developing today. The projects we are jointly implementing are important for our countries, for the continent and for the whole world. So we have managed to create a very successful format of cooperation. I am convinced that our cooperation will deepen and expand even more in all areas in the coming years. This is necessitated by our political will. I am sure that we will always be next to each other on all matters, will support each other just as we have always done in all matters before.
We have discussed foreign policy issues, the situation in the region and the implementation of our transport and energy projects today. Of course, we will now discuss these issues in an expanded format, in a wider form. I am convinced that the results of the visit will be very positive and make a new contribution to our cooperation.
Once again, you are welcome!
---
Follow us on Twitter @AzerNewsAz