US Embassy celebrates 10th anniversary of Baku American Center [PHOTO]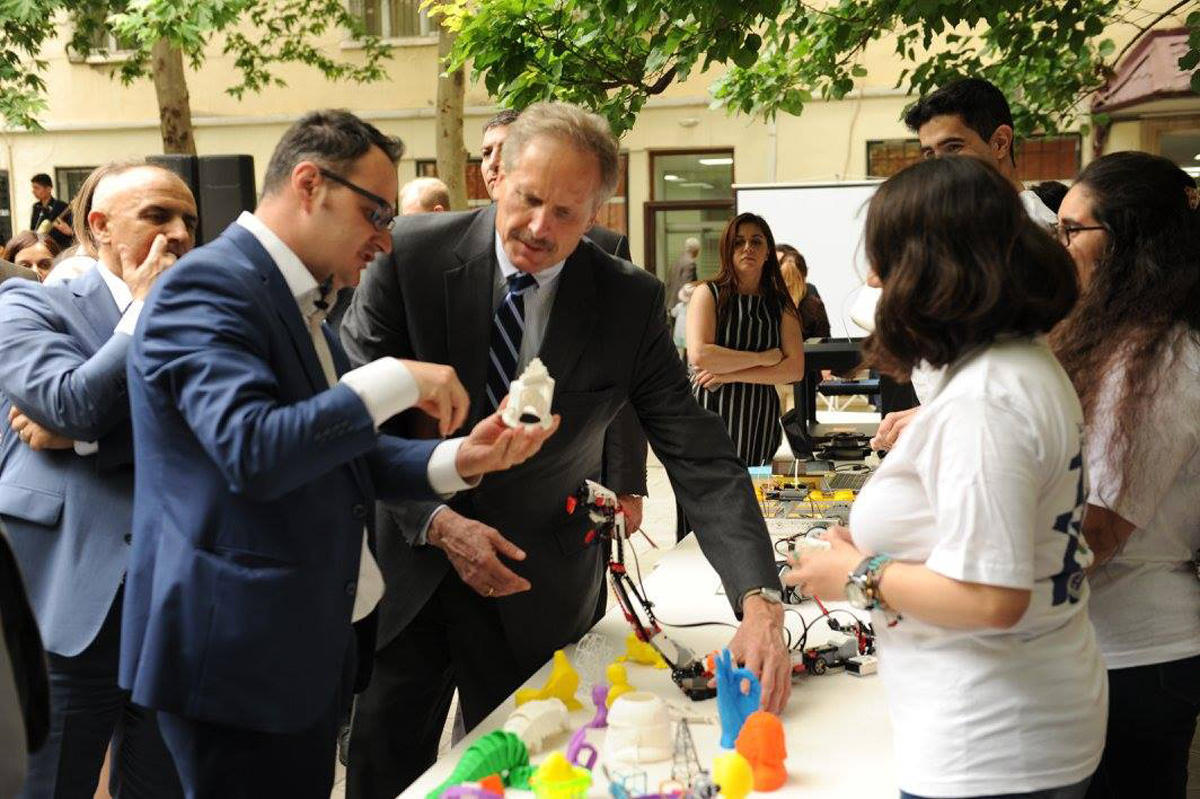 By Trend
The US Embassy Azerbaijan is pleased to announce the celebration of the 10th Anniversary of the Baku American Center located at the Azerbaijan University of Languages.
The event took place in the courtyard of the university and will include brief remarks, photo exhibits of Baku American Center activities over the past decade, a demonstration of Maker Space activities, good food and music performed by the famous Elchin Shirinov band. Invitees included long-term users of the Center, primarily students, teachers, and education contacts. Also during the event, the Ambassador presented awards to the winners of the 25th Anniversary Essay Contest.
This event takook place under the auspices of the 25th anniversary of U.S.-Azerbaijan diplomatic relations.
The Baku American Center is one of the Embassy's most effective platforms to deliver the information about American culture, values and the U.S. educational system to a wide audience. It brings together the schoolchildren, students, US-educated alumni, educators, English language teachers and cultural contacts. During its 10-year activity The Baku American Center organized over 5,000 events, welcomed more than quarter of a million visitors and helped to 500 interns and volunteers to grow.
The 10th Anniversary is an important milestone to reinforce the importance of the US Embassy partnership with the Azerbaijan University of Languages which has been a home for the Baku American Center for all these years. It only started with one library room, and now the Baku American Center includes training halls, Kids' Corners and a new addition – Maker Space, where kids and young adults have a chance to learn STEM programs (science, technology, engineering and math)
For the event, the Baku American Center invited former employees and active users of the American Center to highlight the success stories and achievements of those affiliated with the Center and the Center's innovative programming, particularly the Maker Space and English language programs, as a resource for professional development.
The Baku American Center was opened in 2007 with the support of then-Public Affairs Officer Jonathan Henick, currently Acting Deputy Coordinator for International Information Programs (IIP) in Washington DC, along with then-Rector Professor Samad Seyidov. Mr. Henick delivers a prerecorded video address in honor of the event.
For more information about the Baku American Center at the Azerbaijani University of Languages, please visit their Facebook page https://www.facebook.com/americancenterbaku/ or contact US Embassy Information Center at 488 3300, x3617.
---
Follow us on Twitter @AzerNewsAz