10 February 2017 17:39 (UTC+04:00)
3 220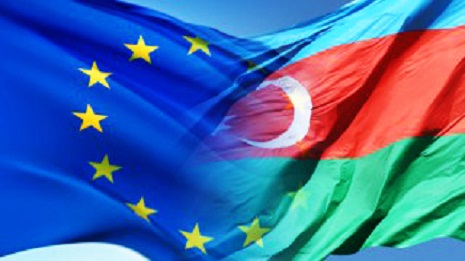 By Kamila Aliyeva
Preliminary talks on the new EU-Azerbaijan strategic agreement, aiming to replace the 1996 partnership and cooperation agreement, were recently held in Brussels.
Only technical issues were discussed at the talks on the new partnership agreement between the EU and Azerbaijan in Brussels, Deputy Foreign Minister Mahmud Mammadguliyev told APA.
"I had an individual two-hour meeting with the Head of Negotiating team during which the minor technical issues such as forms of the meetings and video conferencing were discussed," he said.
Saying that nothing substantial was discussed at the meeting, Mammadguliyev, however, noted that the main task was to find out European colleagues' opinion on the draft submitted by Azerbaijan.
Mammadguliyev said that "now we are waiting for the EU position to address the proposed project," adding that while being there he asked the EU representatives to inform Azerbaijan about their decision so the country can consider and begin the substantive negotiations.
"We must hold serious discussions and define our position," he stated.
Mammadguliyev emphasized that the faster the EU partners present their proposals and amendments, the better, as Azerbaijan needs time because all structures in the country are taking part in this project.
The Deputy Minister noted that the most sensitive issues for Azerbaijan are security and political matters and the opposite side also delicately refers to these questions, as without finding solutions to these issues, the clarification of the other ones will be difficult.
"They also pay serious attention to the issues of trade and investment," he said.
All negotiations are conducted in three blocks, according to the deputy foreign minister.
The first one is on political and security issues, the second – on trade and investment, and the third - on the rest of the economic, humanitarian and social issues.
"Our EU partners suggest holding negotiations in parallel on all three blocks, and we will consider this option, however, the first unit is very important to us and we offered to start with it," Mammadguliyev said.
In November 2016, the European Council adopted a mandate for the European Commission and the high representative for foreign affairs and security policy to negotiate on behalf of the EU and its member states, a comprehensive agreement with Azerbaijan.
The agreement will follow the principles endorsed in the 2015 review of the European Neighborhood Policy and offer a renewed basis for political dialogue and mutually beneficial cooperation between the EU and Azerbaijan.
The new agreement envisages the compliance of Azerbaijan's legislation and procedures with the EU's most important international trade norms and standards, which should lead to the improvement of Azerbaijani goods' access to the EU markets.
Azerbaijan has become a country of direct priority to the EU's strategy in its wider neighborhood since the last enlargement of the European Union in 2007. Azerbaijan affects Europe's interests, mainly in a regional energy strategy.
---
Kamila Aliyeva is AzerNews' staff journalist, follow her on Twitter: @Kami_Aliyeva
Follow us on Twitter @AzerNewsAz
Related News