21 December 2016 18:21 (UTC+04:00)
4 515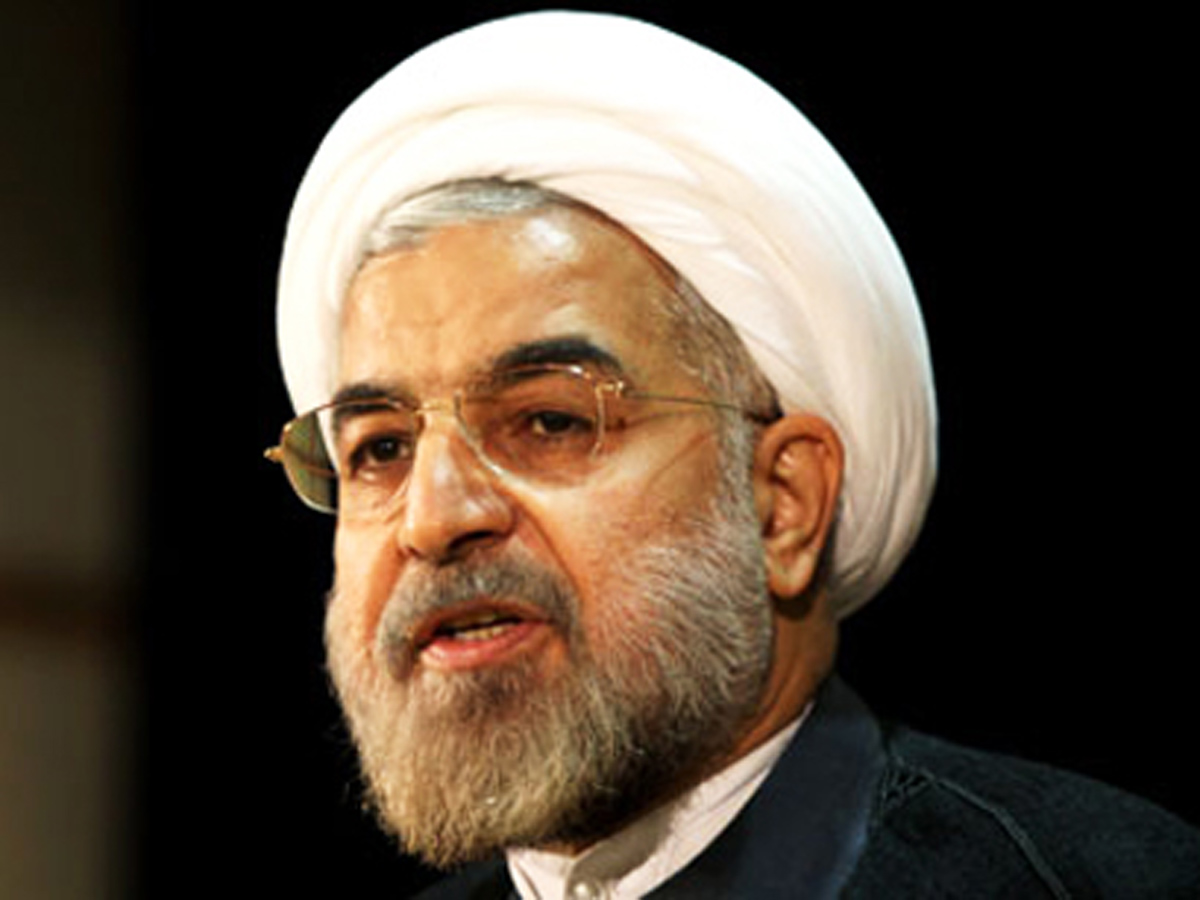 By Rashid Shirinov
Iran hopes for a speedy resolution of the Armenia-Azerbaijan Nagorno-Karabakh conflict, Iranian President Hassan Rouhani said in Yerevan, news.am reports.
Rouhani arrived in Armenia for a one-day official visit on December 21.
"Azerbaijan and Armenia are friendly countries for Iran, and Iran hopes to see the establishment of peace and stability in the region," he noted.
Rouhani added that this will benefit the entire region. "The issue has no military solution, and we would like to see it resolved peacefully."
Iran backs peaceful resolution of the conflict and has numerously expressed its wish to become another mediator to assist in resolving the long-lasting conflict in the South Caucasus.
French senator and vice-chair of the Senate's Foreign Affairs Committee, Nathalie Goulet considers that Rouhani's visit to Armenia may be very instrumental to finding an agreement on the Nagorno-Karabakh problem.
"Iran, which has fully repaired relations with its neighbors and Azerbaijan, is able to push a fair solution to the Nagorno-Karabakh issue," Goulet told Trend on December 21..
She added that Iran may play a central role in this issue, with 40 million Azerbaijanis and a huge Christian Armenian population living in the country.
"Iran may also help Armenian economy, which is collapsing, and make a fair arbitration in the settlement of the Nagorno-Karabakh conflict," Goulet said.
She believes that Iran as a regional power and Azerbaijan's neighbor would be, if wanted, the best tool to bringing Armenia to reason and freeing the occupied territories of Azerbaijan, as well as finding a common ground for the Nagorno-Karabakh conflict's settlement.
"I am sure Iran would be more efficient in this matter than the [OSCE] Minsk Group," Goulet added.
In turn, Azerbaijani Foreign Ministry's spokesperson Hikmat Hajiyev told APA that one of the fundamental principles of Azerbaijani-Iranian relations is non-interference of the states in the internal affairs of each other.
He reminded that Armenia leads a destructive policy in the region, makes territorial claims to its neighbors and commits aggression and occupation against Azerbaijan. As a result of the Armenia's bloody ethnic cleansing policy in the occupied territories of Azerbaijan, more than one million Azerbaijanis still have to live as refugees and internally displaced persons, the spokesperson noted.
"Armenia is a country that looted, destroyed and abused the material and cultural monuments of the Azerbaijani people in the occupied territories, including mosques belonging to the Islamic religion," Hajiyev added.
Azerbaijan and Armenia for over two decades have been locked in the Nagorno-Karabakh conflict, which emerged over Armenian territorial claims. Since the 1990s war, Armenian armed forces have occupied over 20 percent of Azerbaijan's internationally recognized territory, including Nagorno-Karabakh and seven adjacent regions.
After that, the UN Security Council adopted four resolutions on Armenian withdrawal from the occupied Azerbaijani territories, as well as OSCE created the Minsk Group to find a peaceful solution to the conflict. However, the lands are still occupied by Armenian armed forces.
Related News