FRANCHITHINK 2017. Restaurant Franchising in One Day [PHOTO]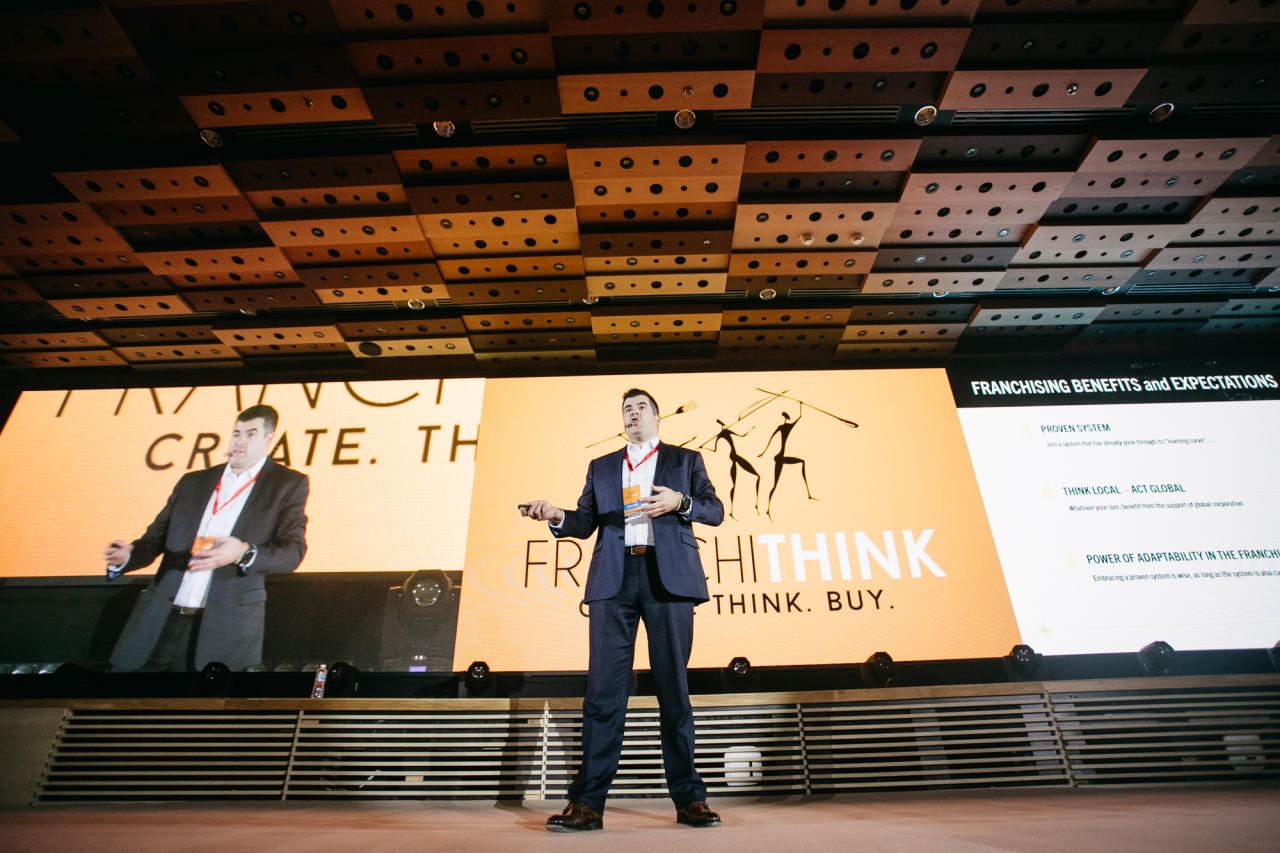 The largest restaurant franchising event in Ukraine, FRANCHITHINK International Forum, was conducted on 30 November 2017 at CEC Parkovy. The unique format of the event gathered the representatives of franchising chains, investors, suppliers as well as other restaurant market experts from Ukraine, CIS countries, the USA, Great Britain, Western, Eastern Europe and Asia in one place.
FRANCHITHINK 2017 is more than 1,600 guests, five international speakers, panel discussion with market experts, fourteen hours of the educational session, twenty franchise presentations in the BUY area and thirty restaurant franchises in the EXPO area.
Guests could hear stories of success of Mario C. Bauer, the Member of the Advisory Board for International Franchising and Member of the Management Board at Vapiano SE; Benjamin Simon, Vice President of Carl's Jr.б the large fast food restaurant chain; Fedor Ovchinnikov, the founder and co-owner of Dodo Pizza, the international сhain; Deniz Kosan, the founder of Walters Coffee Roastery; Olga Eliseeva, the Chief Operations Officer KFC for Central and Eastern Europe, Russia and CIS on the main stage.
"It is really an outstanding event and the most impressive stage I have ever been. I think it is important to talk about franchising. I support all this kind of conferences around the world because to find a right partner, to find a right brand, to bring franchisees and franchisers together - is one of the most important thing of the industry," says Mario C. Bauer, the Member of the Management Board at Vapiano SE about his opinion of FRANCHITHINK.
In addition to restaurant franchising market players, the forum was attended by entrepreneurs considering purchase of a restaurant franchise as well as owners of existing restaurant business interested in development of their brand. The experts told the guests about franchise business scaling and brand development, entry to the international market, raising of investment, marketing strategies, recruitment, quality and service control at CREATE and THINK platforms. Olha Yoltukhovska, Myroslava Kozachuk, Oleksandr Musatov, Maksym Pruchai, Olena Isaieva, Nadia Pereviznyk, Yuliia Chesnokova, Taras Serediuk, Ekaterina Starodubtseva and others shared their experience with the guests.
There were presentations of world famous franchises from Ukraine, the USA, Spain, Italy, Ireland, Turkey, Belarus and Russia in the BUY area. The Forum's guests also studied business models of such franchises as Little Caesars, KFC, Dodo Pizza, SHADE BURGER, MYBOX, Walter's Coffee Roastery, Pizza Firenze, Yogorino, Cantina Mariachi, Lizarran, Pizza Celentano, Smilefood, Salateira, FreshLine, Lviv Croissants, CoffeeDOOR, Сoffee sound, Baluvana Halia Varenyky Restaurant, Mafia, Khinkalnya, Georgia, CASTA, Dmytro Borysov's Gastrofamily. Some of the presented franchises may already enter the Ukrainian restaurant market next year. In particular, Fedor Ovchinnikov, the founder and co-owner of Dodo Pizza, the chain of pizza restaurants, told about his intention to open first restaurants in Ukraine in 2018.
He also mentioned that development of franchising in Ukraine demonstrates development of small business in the country. "Franchising develops when small business starts to develop. Small business is the main consumer of franchising. If franchising is developing in Ukraine now, it means business is developing as well, and it is wonderful because entrepreneurs will save the world," said Fedor Ovchinnikov.
The principal mission of FRANCHITHINKis to demonstrate positive dynamics of restaurant franchising and industry development and to establish conditions for communication of practical specialists and entrepreneurs making the country more hospitable by creating new high-quality restaurants.