1 May 2015 11:08 (UTC+04:00)
1 608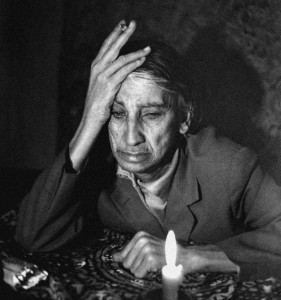 By Laman Sadigova
A new portrait of famous Azerbaijani artist, Sattar Bahlulzade was found in Uzbekistan by the chief curator of the museum, PhD on art criticism, and member of the artist's family, Parzad Abdinova.
The portrait, painted in 1979 by the national artist of Uzbekistan and Tatarstan, Chingiz Akhmedov is now stored in the Academy of Arts of Uzbekistan.
Two future great artists Chingiz Akhmedov and Sattar Bahlulzade met each other in the Moscow Art Institute named after V. I. Surikov.
Later Chingiz Ahmedov, remembering his friend, tells that he was a man with a great heart. "He was a great connoisseur of Eastern poetry and even constantly read us gazelle of Nizami, Fuzuli and Navai; he also had an amazing vocal. For example, he loved to perform us an aria Majnun, tell us about the great composer Uzeyir Hajibeyov, actors Huseyn Arablinsky, Abbas Mirza, Ulvi Rajab, great Shovket Mammadova and Bulbul. Through his stories, I fell in love with Azerbaijani art, music and poetry. "
In the 70-s Akhmedov visited his friend in Baku. During his visit to the artist's studio, he saw a big variety of his work in which his huge love of Azerbaijan could be seen.
"His name will always live in the very heart of Azerbaijani art", Akhmedov says.
The new-found portrait is the second of Akhmedov's painting dedicated to Bahlulzade.
The great Azerbaijani artist, Sattar Bahlulzade was born in the village of Amirjan, near Baku, in 1909.Most of Sattar's life and creative activity were spent in Amirjan, a village about half an hour's drive east of Baku near the sea.
Though he experimented in various genres of art, his unique talent was landscape painting. At first, he used to paint nature realistically as he had been taught. But soon he developed his own style to express the emotional feeling it invoked in him. This new style was more surreal and cosmic-in fact, some of his paintings are reminiscent of photos of the earth taken from space. Using a combination of pastel colors and bold strokes, he made nature look more colorful and lively, and sometimes even more fantastic, than it did in reality.
In the color palette of his works, Sattar rarely used dark colors and never black ones. His favorite colors were green and blue. Canvases of the artist are always full of light and limpid air.
In the 1950s he created landscapes dedicated to the nature of Guba - "The bank of Gudyalchay", "The road to Giz- Banovsha", "The valley of Gudyalchay", "Green carpet". Guba ladscapes show that artist was a real landscape painter, who had a delicate feel of the beauty of nature. Other famous works by him are also amazing - "Skyway", "Morning", The Caspian evening", "Piti".
Sattar loved to travel around his motherland, Azerbaijan, to explore its beauty. Once he noted, "I don't need to go to Tahiti like Gauguin. The source of my real inspiration is my own country and people."
Sattar won many prizes for his art. He received the title of Honored Art Worker of the Republic in 1960 and was named People's Artist in 1963.
---