Baku to live in rhythm of jazz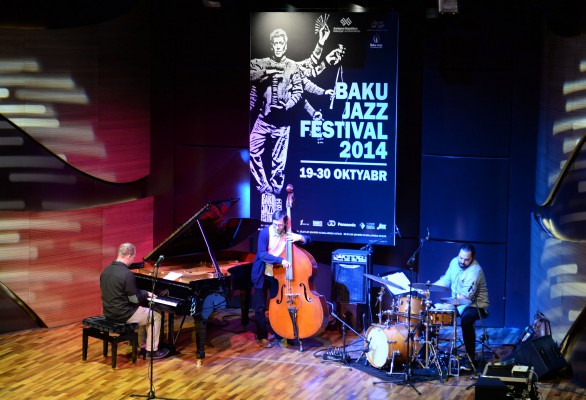 By Nigar Orujova
Traditional International Jazz Festival kicked off at the Mugham Center in Baku on October 19.
The festival organized by the Culture and Tourism Ministry and Azerbaijani Culture Foundation has brought together acclaimed jazz musicians from all over the world. The music holiday will last till October 30.
American pianist Craig Taborn together with Thomas Morgan on bass and Gerald Cleaver on drums performed on the first day of the festival.

Taborn is an American pianist, keyboardist and composer, who also plays organ and Moog synthesizer. He has worked mostly in jazz, although he also does dark ambient and techno music.
Several concerts will be held during the festival at the most prominent halls of the city, including Heydar Aliyev Palace, Magomayev Azerbaijan State Philharmonic, International Mugham Center, Baku Jazz Center and Rashid Behbudov State Song Theatre.
Craig Taborn Trio, Terri Lyne Carrington quartet, Terence Blanchard quintet, Stanley Clarke from the US, Anat Cohen quartet from Israel, Michel Camilo from Dominican Republic, Trilok Gurtu from India, and Bebel Gilberto from Brazil will also thrill up Baku music fans during the festival.
Azerbaijani musicians Salman Gambarov, Jamil Amirov, Mirjavad Jafarov, Elchin Shirinov, Zaur Mirzayev will also hold solo concerts.
The Baku International Jazz Festival is an annual jazz event aimed at showcasing Azerbaijan's long-running attachment to the American-born art form, a connection first established in the country during the 1950s and 1960s, a time when jazz was outlawed by Soviet authorities.
Many famous musicians from a dozen countries, including Georgia, Portugal, Italy, Israel, USA, Germany, Canada, and Russia, are participating in the festival.
Jazz music is one of the main favorite music in Baku. Founder of Azerbaijani jazz, Vagif Mustafazadeh managed to establish Azerbaijani jazz. He created in Jazz something native and something close to Azerbaijani soul. He established a new sound - his own kind of jazz, a fusion of jazz with a form of indigenous Azerbaijani music, Mugham.