Gara Garayev`s works performed in Stockholm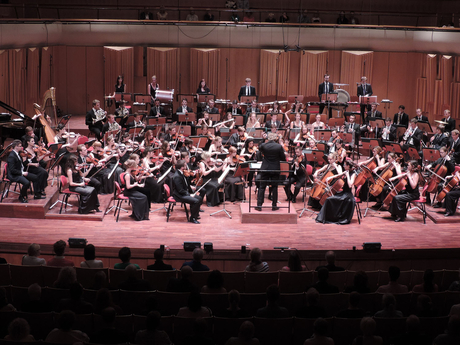 By Amina Nazarli
Works by prominent Azerbaijani composer Gara Garayev have been performed at Culture Orchestra concert in Berwaldhallen concert hall in Stockholm.
The concert was held as part of the Baltic Sea Festival, held on August 22-30.

The event was attended by representatives of the embassies accredited in Stockholm and Swedish public figures.
Gara Garayev, one of those great composers who enriched the Azerbaijani music with his immense legacy, is the author of nearly 110 pieces, including ballets, operas, symphonic and chamber pieces, piano solos, cantatas, songs and marches.
Garayev is considered as the second composer of the country next only to Uzeyir Hajibeyov, the father of classical music in Azerbaijan, for his innovation in musical compositions.

Established by the Adam Mickiewicz Institute in 2011, Culture Orchestra is an ensemble of outstanding young musicians from Poland and the Eastern Partnership member states -Azerbaijan, Belarus, Georgia, Moldova, Ukraine and Armenia.
The mission of Culture Orchestra is to foster positive change in the cultural and social development of the countries of Eastern Europe and Southern Caucasus through enterprises of the highest artistic quality.