27 November 2013 13:58 (UTC+04:00)
1 425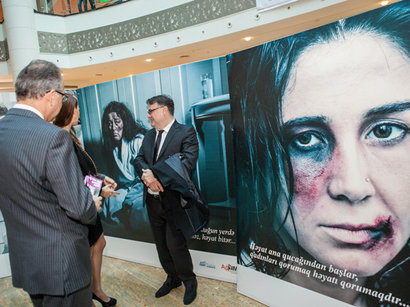 By Sabina Idayatova

Baku hosted the photo exhibition "Qadına vurma, vurul!", (Don't beat, but love woman!) dedicated to the International Day for the Elimination of Violence Against Women, organized by the Center for Public Health and Reforms of the Azerbaijan Ministry of Health and the Association of creative youth "ADDIM", at the Park Boulevard trade center on November 25.
Photographer Ruslan Teymurflutov and Georgian greasepaint master Maria Inasaridze participated in the realization of the project. All portraits of the project's participants were presented in the form of unhappy women.

At the opening ceremony, MP Ganira Pashayeva and founder of "ADDIM" Huseyn Javadzadeh, spoke about the role of women in contemporary society.

Women activists around the world have marked November 25 as a day against violence since 1981. The UN General Assembly designated November 25 as the International Day for the Elimination of Violence against Women on December 17, 1999.
The event was attended by chairman of the "Towards Unity" society Zarifa Guliyeva, Honored Artist of Azerbaijan, a famous fashion designer Fahriya Khalafova, honored actress Elza Seyidjahan, TV presenter Nargis Jalilova, journalist Gunay Malikgizi, singers Sabina Babayeva, Elnara Khalilova and others.
Related News