Azerbaijan represented at Istanbul book fair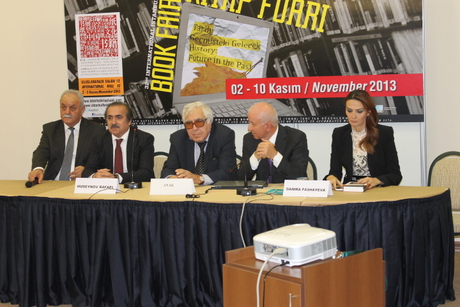 By Sabina Idayatova
The 32nd International Book Exhibition is held at the TUYAP Fair and Convention Center in Istanbul on November 2-10.
About 700 publishers from Azerbaijan, Turkey, and other countries have taken part in the Exhibition which is held in partnership with the Publishers Association of Turkey.
Organized by the Azerbaijani Ministry of Culture and Tourism and the Azerbaijani Consulate General in Istanbul, the stands that present books about the prosperous life and activities of Azerbaijan's national leader Heydar Aliyev and the reforms implemented by the Azerbaijani President Ilham Aliyev, along with 245 works by Azerbaijan's classical and modern writers and poets have been met with great interest by the visitors.
Within the framework of the exhibition, the conference titled "Two wings of Word - Mashati Ganjavi and Nigar Rafibayli" was held with the participation of Azerbaijani writers and literary critics.
Speakers to the event, including the people's writer Anar, corresponding member of the Azerbaijani National Academy of Sciences (ANAS) Rafael Huseynov, MP Ganira Pashayeva spoke about Ganjavi, a prominent Azerbaijani poetess of the 12th century and Rafibayli, a well-known representative of the 20th century Azerbaijani poetry.
A decision on the world-wide celebration of the 900th anniversary of Ganjavi was made at the 36th session of UNESCO General Conference. Women's rights and dignity were reflected in the works of both poetesses despite a 9-century difference.
The event continued with the performance of mugham trio.
The event was also attended by Azerbaijani Consul General in Istanbul Hasan Zeynalov and Azerbaijani Deputy Minister of Culture and Tourism Vagif Aliyev.
As many as 300 events and hundreds of autograph sessions are scheduled during the fair.