31 May 2013 17:59 (UTC+04:00)
1 409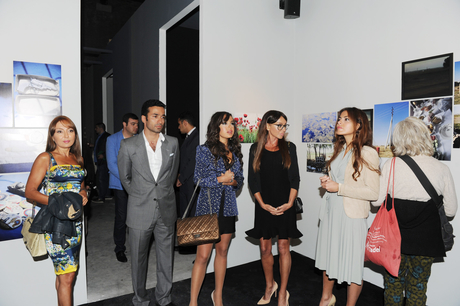 By Nigar Orujova
An exhibition of contemporary art of Azerbaijan and neighbor countries opened on May 30 as part of the 55th international Venice Biennale in Italy.
Azerbaijani first lady, president of the Heydar Aliyev Foundation, Mehriban Aliyeva participated in the opening of the exhibition.
Mehriban Aliyeva was told that the exhibition, organized by YARAT! Contemporary Art Space headed by Aida Mahmudova, is entitled "Love me love me not!" features works of 17 contemporary artists of Azerbaijan, Turkey, Russia, Iran and Georgia .
The exhibition, which will last until November 24, is coordinated by specialist for modern art in the Middle East, Iran and Caucasus Dina Nasser-Khadivi, who earlier worked at Christie`s auction.
It offers an opportunity of direct feeling of dynamics of each people, discovering the mysteries of forgotten or unknown history and demonstrating the world perception in these countries.
The exhibition widely features media and subject materials, as well as video installations and artistic works. The compositions skillfully feature historical issues and peculiarities of the contemporary life.
Works on display include art pieces by Faig Ahmed, Rashad Alakbarov, Afruz Amighi, Kutlug Ataman, Shoja Azari, Rashad Babayev,Mahmoud Bakhshi, Ali Banisadr, Ali Hasanov, Orkhan Huseynov, Sitara Ibrahimova, Aida Mahmudova, Taus Makhacheva, Farkhad Moshiri, Farid Rasulov, Slavs and Tatars and Iliko Zautashvili.
The exposition of Azerbaijani artist Sitara Ibrahimova "The limit" devoted to the Karabakh war causes special interest. The photos taken in the war time by the employees of the Red Cross Committee lay the basis of this exposition. These photos feature the belongings of missing people, life of people residing in the region of Agdam and on the front line.
Other works and video installations presented at the exhibition feature the feelings and outlooks of artists in an original manner. Using paints and technique of art, the authors of the compositions sought to reflect the creative information and their own knowledge about the history of art. They also featured the details of movement, peculiar of human nature and abstract compositions in different forms of modern art.
YARAT Contemporary Art Space, founded in 2011 by Aida Mahmudova, and based in Baku, is realizing its mission through an ongoing program of exhibitions, education events, and festivals. It facilitates dialogue and exchange between local and international artistic networks, including foundations, galleries and museums.
Related News