Azerbaijani musicians perform in int'l festival for drums and traditional arts in Cairo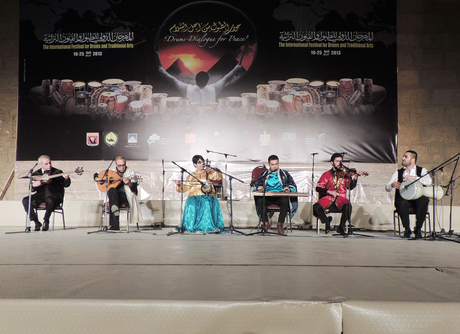 Azerbaijani musicians are attending the first International Festival for Drums and Traditional Arts under the title "Drums Dialogue for Peace" started last Friday in Salah El Din Citadel & El Ghouri Dome in Cairo, Egypt.
The event, organized by the Egypt`s Ministry of Culture, brought together musicians from 30 countries of the world.
A delegation of Azerbaijani musicians comprises of Mehri Asadullayeva, Yasef Eyvazov, Rashad Ilyasov, Tahir Haqverdiyev, Ramin Hasanov and Muhiddin Jan Shimshey, as well as dancers Fatima Fataliyeva and Ilham Karimli.
The attendees were admired by the Egyptian wedding party, performed by the Egyptian dancing group.
Representatives of the Azerbaijani embassy to the country and Diaspora, as well as students studying in Cairo attended the festival.