16 October 2015 16:38 (UTC+04:00)
1 416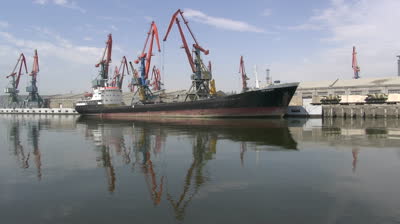 By Vusala Abbasova
The first voyage of Azerbaijani cargo vessel Maestro Niyazi has been successfully completed outside of the Caspian Sea, according to the Azerbaijan Caspian Shipping Company.
The cargo ship delivered 4,600 tons of grain from the Russian port of Yeisk to the Turkish Samsun.
"Unloading operations on board the ship will be completed today," said the company.
As many as five vessels of the company deal with international cargo transportation in the Black Sea and the Mediterranean.
In addition to the Maestro Niyazi, the cargo vessels Uzeyir Hajibayli, Natavan, Garadagh and Teymur Ahmadov operate there.
Currently, the ship Uzeyir Hajibayli is undergoing a routine inspection in Tersan shipyard in the Turkish region of Yalova.
"After inspecting the hull of the ship, its mechanisms and equipment, the vessel will be returned to operation for five years," said the company.
Azerbaijan Caspian Shipping Company plays a vital role in the Transport Corridor Europe-Caucasus-Asia (TRACECA), providing for the transportation of goods and passengers in the Caspian Sea, along with offshore support services for oil and gas operations.
The development of marine shipping in Azerbaijan is closely linked to the emergence and enhancement of the oil industry and the trade relationships with foreign countries.
Azerbaijan's Caspian Sea Shipping Company is among the major ship owning companies in the Caspian basin and its main activity is cargo transportation, predominantly in oil and oil products in the Caspian, Black, Mediterranean, and Marmara Seas.
Baku – the starting point for all of Azerbaijan's sea transport – boasts the Caspian's biggest seaport.
Baku is poised to become a major regional transportation and communications hub for the Trans-Caucasus and Central Asian republics. The TRACECA Program was launched by the European Union in 1993 and encourages the development of a transport corridor on an East-West axis from Central Asia through the Caucasus, across the Black Sea, to Europe. The corridor includes all forms of transport.
---
Follow us on Twitter @AzerNewsAz
Related News