Tourism sector fights devaluation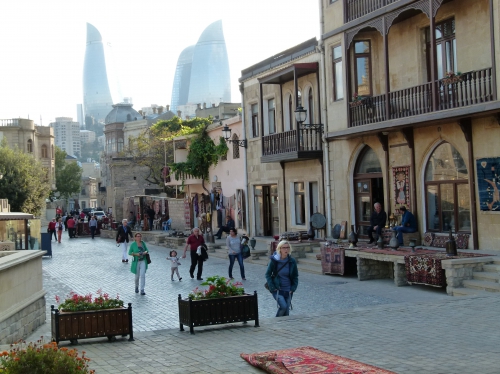 By Nigar Orujova
As the world finds itself in the midst of an aggravated global financial crisis, all industry sectors have felt the slow-down and as it happens the tourism industry most of all as vacations are no longer high up on people's agenda.
Azerbaijani people usually travel on public holidays -- New Year and Novruz Bayram, as well as during the summer time. Most people actually plan their Novruz vacation as early as January. However, in light of the recent devaluation of the national currency manat, many families have altered their plans.
Those who successfully bought their holiday packages before February 21 are now feeling rather pleased with themselves since monetary devaluation will mean that prices have gone de facto lower. For others, going on a holiday just became more expensive.
Experts believe the devaluation of the manat will undoubtedly affect tourism and will initially lead to a decrease in travels abroad.
However, the situation will become stable soon, noted Nariman Agayev, chairman of the Sustainable Development Research Center.
"The flow of our citizens abroad will increase closer to August, but domestic tourism will become more active closer to May," he believes.
Nahid Baghirov, Head of the Azerbaijan Tourism Association, is confident Azerbaijan's tourism market has not faced an artificial price rise.
"Not a single tourist company, none of the hotels has raised their prices at present," he assures. "Prices rose only for hotels and flights booked in dollars or euros, but travel companies do not inflate prices for their own services."
The price of the tour packages in the country rose by 34 percent as travel companies bought and paid tours in dollars, he explained, as the devaluation of manat to dollar was at the level of 34 percent.
"However, those companies that have managed to pay for early booking before the devaluation, have not raised the price of their already sold tours," Bagirov told local press.
He noted the current situation is advantageous for incoming tourism.
"In such a situation tours in Azerbaijan are cheaper for foreign tourists, and companies engaged in inbound tourism, should intensify their activities to promote tourism potential of the country, which have a positive impact on the tourism sector as a whole," he stressed.
Inbound tourism at advantage
Azerbaijan's tourism potential is developing annually as new hotels and entertainment facilities are opening in the country, rich of natural wonders. The country's nine climatic zones make it possible to enjoy a variety of activities.
Shahdag and Tufandag winter and summer complexes are the best examples of such modern amusement facilities that the whole family can enjoy.
Meanwhile, Azerbaijan is awaiting a high flow of tourists this June as the inaugural European Games will open in Baku this summer. Over 6,000 athletes will come here to compete in 20 sports on June 12-28.
For this reason, Azerbaijan is monitoring its hotels. There are over 500 hotels in the country with a capacity of over 34,700 rooms.
Currently, there are 23 five start hotels in the country, 41 four star hotels, 12 three star and 3 two star hotels. Baku is home to 56 hotels.
The number of luxury hotels is high in the country, but now there is a need to develop budget hotels.
AzTA chairman's advisor Muzaffar Agakerimov believes the country needs to provide incentives for entrepreneurs, so they can build two- and three-star hotels.
"The more two- and three-star hotels we have the greater the inflow of foreign tourists to the country," he said.
Azerbaijan is now gaining popularity for hosting international events at the highest level. After the first European Games, which will be held at the level of the Summer Olympics, the country will also hold Islamic Solidarity Games, Formula 1 race and quarterfinals and three group games of the Euro 2020. These events ensure the high flow of tourists to the country, which will only develop the tourism sector.
--
Nigar Orujova is AzerNews's staff journalist, follow her on Twitter: @o_nigar
Follow us on Twitter @AzerNewsAz