9 March 2015 14:23 (UTC+04:00)
1 413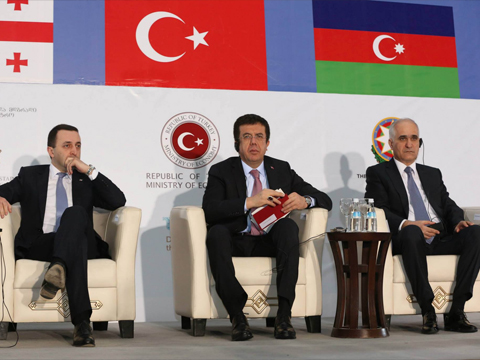 By Mushvig Mehdiyev
A trilateral business forum in Georgia shed a light on business environments in Azerbaijan, Turkey and Georgia attracting over 350 businessmen from three countries.
Addressing the forum at Batumi, Azerbaijan's Economy and Industry Minister, Shahin Mustafayev said strategic projects such as the Southern Gas Corridor, Baku-Tbilisi-Kars railway, energy bridge Azerbaijan-Turkey-Georgia were key factors conditioning fruitful regional cooperation.
He added that these projects contribute to global peace and to the welfare promotion of nations living in the South Caucasus region.
Referring to Armenia's occupation policy against Azerbaijan, Mustafayev said it remained a serious impediment to the regional development.
"Armenia's aggressive policy keeps it aside from regional progress, and the protracted conflict in the Nagorno-Karabakh region is the most serious threat to cooperation and peace in the region," he noted.
Azerbaijan's internationally recognized Nagorno-Karabakh territory has become a conflict zone following Armenia's aggression in the early 1990s. As a result of Armenia's armed invasion, 20 percent of Azerbaijan's territory fell under Armenia's occupation. Nonetheless, the OSCE has attempted to foster a peaceful resolution to this conflict amid Armenia's persistent derailment on peace talks.
"Georgia really has a fair, transparent and secure investment environment, and every cent you invest here will be protected by the law and state," said Georgian Prime Minister Irakli Garibashvili addressing the forum.
The Georgia-Turkey-Azerbaijan Business Forum will serve to deepen Georgia's friendship with Turkey and Azerbaijan, the most important economic, trade and investment partners for Georgia, believes Garibashvili.
"The last few years were the most fruitful years in view of economic relations between Georgia-Turkey and Georgia-Azerbaijan. I am sure that this trend will continue and our cooperation will support the implementation of more interesting and successful projects," he said.
Garibashvili expressed his confidence that Georgia, Azerbaijan and Turkey have enough potential and all are capable of turning the whole region into a significant player in the economic relations between East and West.
Garibashvili has also managed to sit with Turkey's Economy Minister Nihad Zeybekchi and Azerbaijan's Economy and Industry Minister Shahin Mustafayev as part of the forum.
The trilateral forums were held in Turkey's Kars and Azerbaijan's Gabala cities in 2012 and 2013 respectively, where the sides discussed prospects for further development of business ties, and exchanged views on regional and global business developments.
According to data released by Georgia's state statistics office, Geostat this January, Turkey remained Georgia's largest trading partner with a total turnover of $1.96 billion in 2014, showing a 23.5 percent year on year increase.
Although a decline in trade turnover in 2014 to $1.18 billion took place, Azerbaijan still remains Georgia's second largest trading partner.
- - -
Follow Mushvig Mehdiyev on Twitter: @Mushviggo
Follow us on Twitter: @AzerNews
Related News