Azerbaijan keen on boosting relations with regions of Italy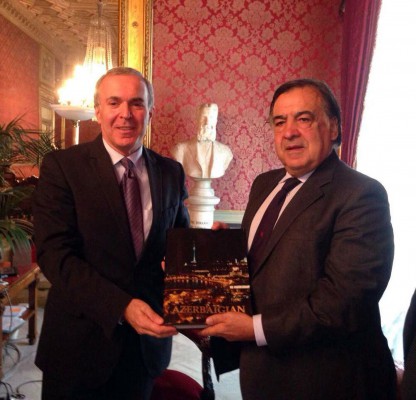 By Amina Nazarli
Azerbaijan attached great importance to boosting relations with the regions of Italy.
Azerbaijani Ambassador to Italy Vagif Sadigov made the remark at a meeting with Mayor of Palermo Leoluca Orlando.
The sides met to discuss how to develop relations between the country and the city.
Orlando expressed his keenness to expand relations with the districts of Azerbaijan, saying that
a visit of businessmen from Palermo to Azerbaijan would create good opportunities for the determination of concrete areas of the economic cooperation.
He also stressed the importance of the implementation of joint projects with the districts of Azerbaijan in the fields of economy and culture.
Sadigov, for his part, spoke of the current state of Azerbaijani-Italian ties, adding President Ilham Aliyev`s visit to Italy contributed to developing the relations.
He also underlined the importance of the joint declaration on strategic partnership between Azerbaijan and Italy in terms of the expansion of cooperation.
"Italy is the first trade partner of Azerbaijan," the ambassador said, noting that political relations positively influenced on dynamic development of the economic cooperation.
He highlighted the activities of Italian companies in Azerbaijan, adding Azerbaijan was Italy's second largest oil supplier.
Italy and Azerbaijan enjoy strong friendly relations. Italy recognized Azerbaijan's independence in January 1991. The diplomatic relations between the two countries were established in May 1992.
Being one of Azerbaijan's major partners in Europe, Italy is Azerbaijan's number one trade partner for last seven years. It is the largest importer of Azerbaijani goods. Almost a quarter of Azerbaijan's export went to Italy in January-July 2013, compared to 22 percent in the same period in 2012.
Italy and Azerbaijan successfully cooperate in the energy field as well. The selection of the Trans-Adriatic Pipeline (TAP) by the Shah Deniz consortium is the basis of the bilateral cooperation in the energy sector.