Thales to upgrade Baku metro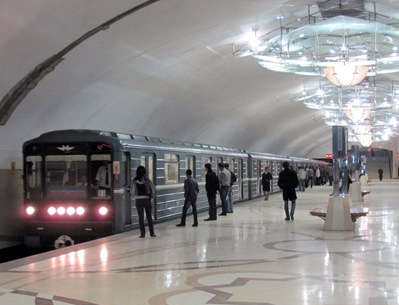 By Nigar Orujova
A French company is set to modernize several Baku metro stations. The Director for the Development of Business in Security and Transport section of Thales Company said: "The company will modernize equipment in five metro stations across Baku."
Addressing reporters in Paris, Sergei Romanets went on saying that: "Metro in Azerbaijan has seen rapid developments in recent years. This has prompted Thales to plan for further developments of Baku metro stations."
"Thales has already started the project. Preliminary works and researches were carried out on five stations from Nizami to Me'mar Ajami station back in 2012," he added.
According to the company's official, Thales is also planning to set up a depot at Darnagul.
The company is to replace the existing relay equipment with a modern microprocessor centralization (MOC) system at these stations. In general, the work is expected to take from 12 to 18 months.
"Now we are ready for the implementation phase. That's to say, for the installation of new equipment. Currently we are awaiting approval of the budget," Romanets said.
"The work on installation of new electronic equipment at the depot is expected to start this year," Romanets said.
Thales also intends to install new CBTC technology (system to control the movement of trains) at the stations on Baku Metro's purple line, which is under construction. It is necessary to carry out a preliminary design as part of the CBTC installation.
"Agreements on this issue have already been reached and it is expected to be signed soon," he said.
Thales Company is a global leader at the markets of aerospace, defense and transport technology. It is also a leader in the sphere of ensuring security. The company has offices in 65 countries.
The 46-year old Baku Metro operates 23 stations in two lines - Red and Green with the total length of 34.6 kilometers. The number of subway lines is planned to increase from two to five, its length up to 119 kilometers, and the number of stations up to 76 by 2030.
Over the next five years, Baku Metro plans to construct 11 new stations. Eight new stations will be operational in the next three years and then three more stations will be commissioned. Five stations will become operational as a Violet Line, while the remaining six will continue the Green Line.
Baku Metro completed the construction work on the Avtovagzal and Memar Ajami-2 stations in 2013. New subways are planned to be open in the capital in 2014.