21 December 2012 20:42 (UTC+04:00)
997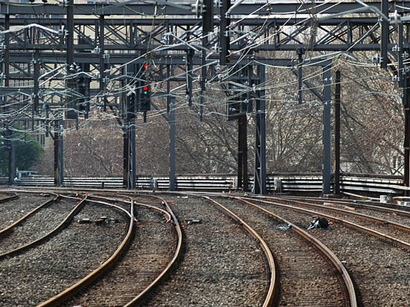 By Sabina Idayatova
Georgian President Mikheil Saakashvili considers as a concern possible suspension of the Baku-Tbilisi-Kars railway construction, which is extremely important for the development of Tbilisi's European integration policy, said a statement posted on Saakashvili's official Facebook page.
Saakashvili made ​​the statement after Prime Minister Bidzina Ivanishvili and the new government raised questions over the railway project.
According to Saakashvili, such initiatives by the premier and the government estrange the country from Europe and bond Georgia with Russia based on "an enslaving relationship". Saakashvili demanded that such issues be put on public discussion.
"These silly initiatives seriously threaten our state," he stated.
PM Ivanishvili told Resonance newspaper that there are "a lot of questions around the construction of the Baku-Tbilisi-Kars railway".
"The construction of the Kars-Akhalkalaki rail line raises questions. Perhaps, I will have to ask them on my visit to Azerbaijan, and very softly explain to our friendly country that at some stage this project would not be suitable for us..." Ivanishvili said.
"Before the start of the construction, the process would have been easier, but now it will be very complicated. We have to respect the commitments assumed by the neighboring countries and the former government, but, at the same time, there are questions here that have to be answered," Ivanishvili said.
The railway project aims to link directly the railway systems of Azerbaijan, Georgia and Turkey to transport large amounts of cargo and passengers. The railway is being built in accordance with an inter-governmental agreement reached by the three countries. The railway is expected to be fully commissioned in 2014.
The railway will increase the flow of containers and other types of cargo from Asia to Europe. Its throughput capacity will peak at 17 million tons of cargo per year. Initially, the capacity will be 6.5 million tons of consignments and 1 million passengers.
Related News