Azerbaijani delegation visits Czech Republic for multilateral coop [PHOTO]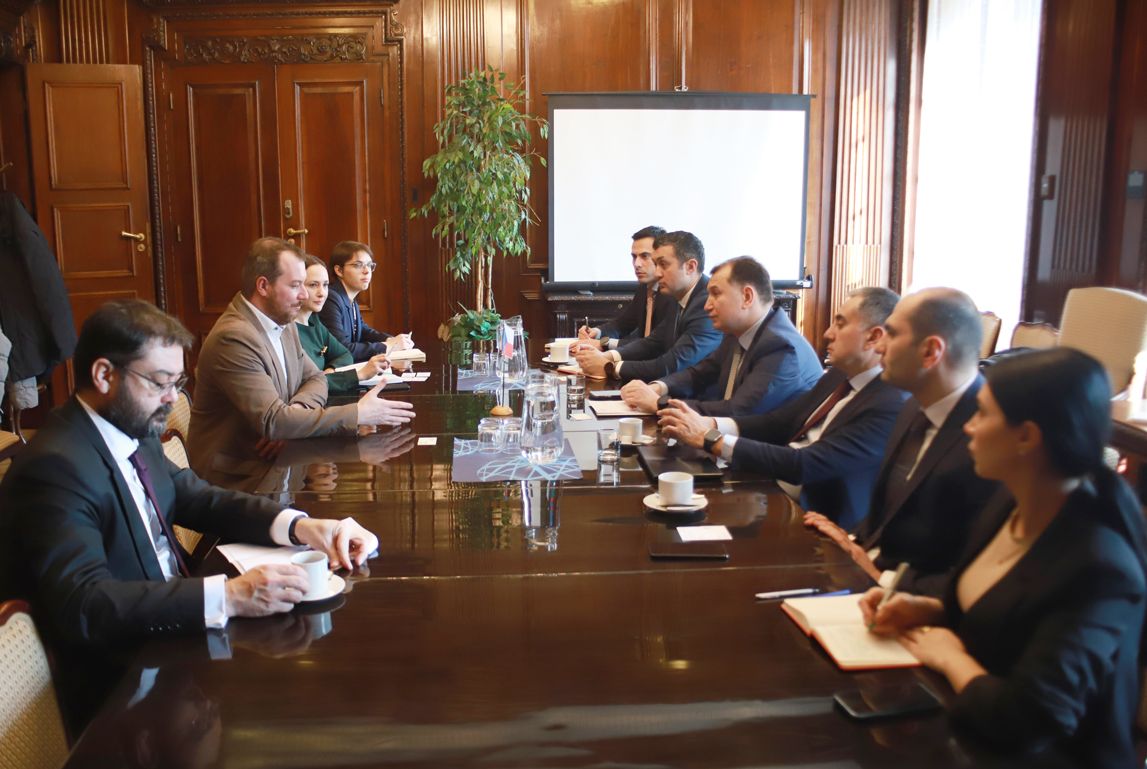 A delegation led by Sahib Mammadov, Deputy Minister of Economy, Co-Chairman of the Joint Commission on Economic, Scientific-Technical, and Cultural Cooperation between the Government of the Republic of Azerbaijan and the Government of the Czech Republic visited the Czech Republic.
The Azerbaijani delegation held various meetings with the Deputy Minister of Industry and Trade in the Czech Republic, as well as representatives of relevant institutions and Czech companies.
In his meeting with Petr Tresnak, Czech Deputy Minister of Industry and Trade, the development of relations between Azerbaijan and Czech was discussed. It was noted that economic and trade cooperation between the two countries is expanding and the trade turnover increased over three times.
Azerbaijani Deputy Minister gave detailed information about the favorable business and investment environment created in Azerbaijan, the work done for the purpose of reintegration and business revival in our territories freed from occupation, and the opportunities created for investors.
In turn, Petr Tresnak said that his country attaches importance to the development of relations with Azerbaijan, and shared his views on the directions of expansion of economic and trade relation
Within the framework of the visit, the 5th meeting of the Mixed Commission on economic, scientific-technical, and cultural cooperation between the governments of Azerbaijan and the Czech Republic was held, as well.
At the meeting, Czech companies were invited to participate in the implementation of projects in Azerbaijan's liberated areas, as well as in Aghdam and Araz Valley Economic Zone industrial parks, as well as in Baku International Sea Trade Port, and the Alat Free Economic Zone.
The meeting discussed trade, investment, industry, finance, transport, energy, agriculture, food safety, Smart City and Smart Village projects, innovation, technology, tourism and air transport, land planning, standardization, etc.
Besides that, a conference on trade, investment, and business relations between the Czech Republic and the Republic of Azerbaijan was held.
At the conference, cooperation in the fields of trade, investment, SMEs, "green economy", innovation, energy, and environmental projects, water management, etc. issues was discussed, and presentations on partnership opportunities in these areas were delivered.
Later, the deputy minister met with the representatives of "Skoda Avto", "Skoda Transportation", "Tatra", "AZD Praha" and "Mavel" companies in the Czech Republic. The meeting discussed the business environment in Azerbaijan, concessions and privileges applied in industrial zones, localization of the production of automobiles and spare parts in Azerbaijan, issues of cooperation with Azerbaijani companies, etc.
Within the framework of the visit, representatives of the Ministry of Agriculture, State Tourism Agency, AZPROMO, KOBIA, Center for Analysis and Coordination of the 4th Industrial Revolution, Azerbaijan Melioration and Water Management OJSC and Azersu OJSC also held fruitful meetings on bilateral partnership with relevant institutions of the Czech Republic.
---
Follow us on Twitter @AzerNewsAz