24 November 2017 09:59 (UTC+04:00)
2 193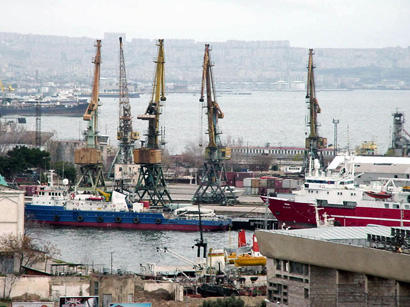 By Sara Israfilbayova
The first phase of construction of the Baku International Sea Trade Port in the Alyat settlement will be completed by the middle of 2018.
"Construction work within the first phase will be completed in the second or third quarter of the next year, after which the first phase of the port will be fully commissioned," he noted. "Thereby, the cargo traffic and harbor capacity will be increased," Vahid Aliyev, deputy director of the port, told Trend.
The new Port of Baku is located on an area of 400 hectares (ha) of land, of which about 100-115 ha cover the area for the development of the international Logistics and Free Trade Zone (FTZ). The northern areas around the port are reserved for future expansion of logistics, industrial, and manufacturing activity.
President Ilham Aliyev signed a decree on March 17, 2016, on measures to create a free trade zone type special economic area covering the territory of the Baku International Sea Trade Port in the Alat township of Baku's Garadagh District.
The FTZ is expected to bring up to $1 billion just in the first few years. Special tax and customs policy, which will be pursued in the territory of the free trade zone will also stipulate further development and simplification of a number of procedures.
FTZ will be located within the grounds of the new port, covering an area of 100 hectares. Since the new port is being built at the major railway juncture connect­ing the North-South and the East-West railway lines in Azerbaijan, FTZ will also have rail access. Serving as a multimodal transit logis­tics hub, the new port and FTZ will become a major consolidation and distribution centre in Central Eurasia that provides a wide range of value added services.
The Baku International Sea Trade Port in Azerbaijan's Alat settlement is expected to become one of the leading trade and logistics hubs of Eurasia. The implementation of all 3 phases of construction is projected to increase the capacity up to 7,660 tons on a daily basis.
Once the first phase ends, the Baku International Sea Trade Port will be able to receive up to 10-11 million tons of cargo and process 50,000 containers per year.
The second stage will provide for the handling of 17 million tons of freight and 150,000 of containers, while the implementation of the final stage is projected to increase the capacity up to 25 million tons of freight and 1 million of containers.
The volume of freight transportation via the Port increased in 2016 by 47 percent as compared to the index of 2015. The figure stood at 4.5 million tons, while transit transportation accounted for some 87 percent of the total volume.
---
Follow us on Twitter @AzerNewsAz
Related News