14 February 2017 17:09 (UTC+04:00)
3 264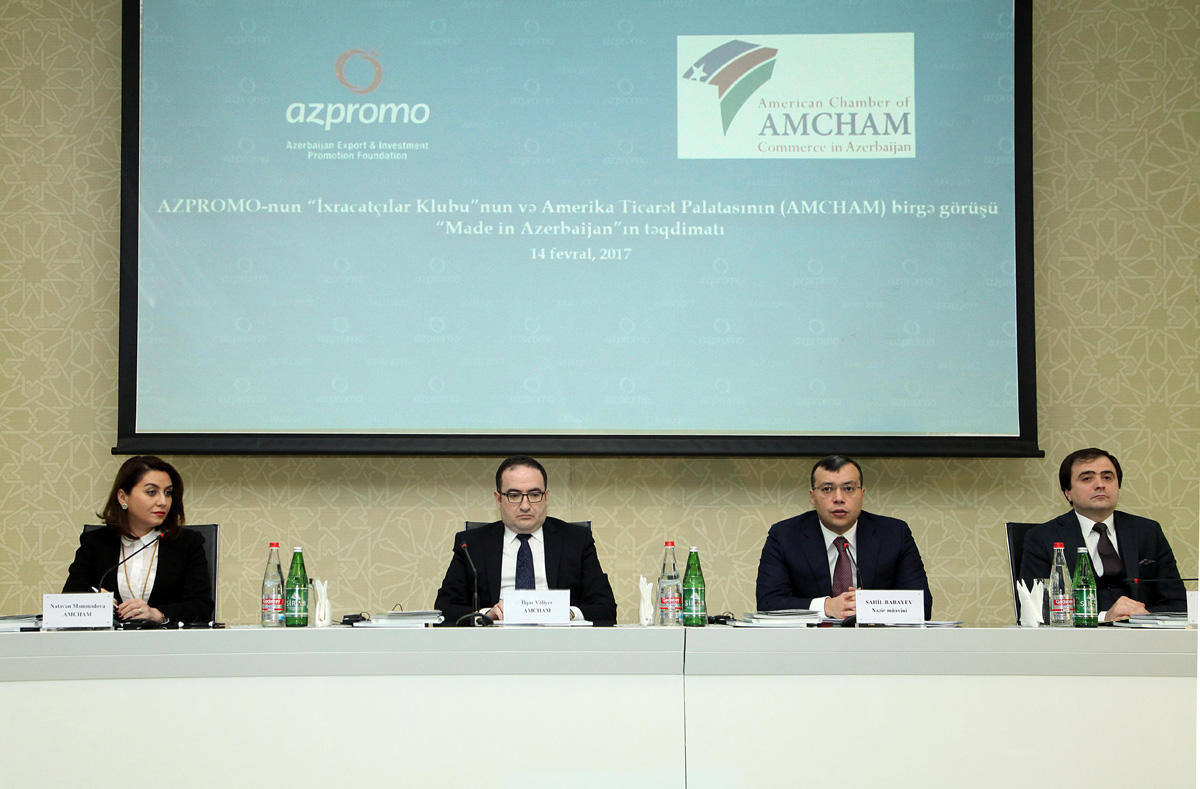 By Nigar Abbasova
Azerbaijan, focusing widely on an export-led growth strategy, aims to expand the list of its foreign trade partners. This year the country plans to organize some five missions to increase awareness about the local production and promote "Made in Azerbaijan" brand.
Head of Azerbaijan Export and Investment Promotion Foundation (AZPROMO) Rufat Mammadov said that export missions will be organized to Qatar (February 25-28), Kazakhstan (April), Russia (May), the USA (June), and China.
He made the remarks during a joint meeting of the Club of Exporters of the Azerbaijan Export and Investment Promotion Foundation (AZPROMO) and American Chamber of Commerce in Azerbaijan (AmCham) in Baku on February 14.
"This year, we have already organized export missions to Germany, Afghanistan and Pakistan. We expect that the missions will yield positive results," he said, adding that Azerbaijani entrepreneurs will also participate in international conferences.
Organizing export missions to foreign countries to explore the markets and marketing activities stands among the promotional mechanisms required for increasing awareness about the local production.
Last year, the country sent such missions to China (Hong Kong and Guangzhou) and the UAE (Dubai).
Talking about results of the missions, Mammadov said that certain agreements had been reached during the missions. The country reached an agreement on the wine supply to China and delivered the first batch of supplies earlier this year. Under the deal, Azerbaijan is expected to supply some 500,000 bottles of wine to the world's second-largest economy.
Besides, the agreement on supplies of fruit, in particular apples, as well as narsharab was inked in the UAE.
Only 10 export missions may be held within a year, while exporters participating in missions are freely provided with accommodation, transport and translation services. A total of 3 million manats ($ 1.64 million) has been allocated out of the Azerbaijani President's Reserve Fund in the 2016 State Budget to finance the export support measures.
Speaking at the event, Deputy Economy Minister Sahil Babayev said the main goal is not only to achieve expansion of the non-oil export, but also expansion of the export geography.
Along with sending trade missions to various countries, the country also appoints trade representatives to the country's diplomatic missions abroad to expand economic and trade relations with foreign countries.
Babayev further mentioned that Azerbaijan is currently in talks with Turkey on giving customs privileges to the exporters of goods, produced in Nakhchivan Autonomous Republic.
"Turkey imposes high tariffs on imported production, namely on the import of agricultural production, to secure its domestic market. We are currently in talks to expand export of our production to Turkey and in this regard we want to get customs privileges for supplies of goods produced in Nakhchivan," he said.
Head of the Wine Exporters' and Producers' Association of Azerbaijan Elchin Madatov, in turn, said that Azerbaijan will resume the export of cognac to Belarus, noting that a relevant contract has already been signed.
He reminded that Azerbaijan was exporting cognac to Belarus, but for certain reasons the supplies were halted.
Today, Azerbaijan produces 20 million bottles of wine per year, while the annual production capacity of the country's wineries is 100 million bottles.
Recently, the country launched wine export to new markets such as China, Vietnam, Japan, South Korea, the U.S. and some European countries. Overall, the wine export of Azerbaijan hit $3.5 million in 2016.
--
Nigar Abbasova is AzerNews' staff journalist, follow her on Twitter: @nigyar_abbasova
Follow us on Twitter @AzerNewsAz
Related News