Simon Clegg: European Games to help karate enter Olympics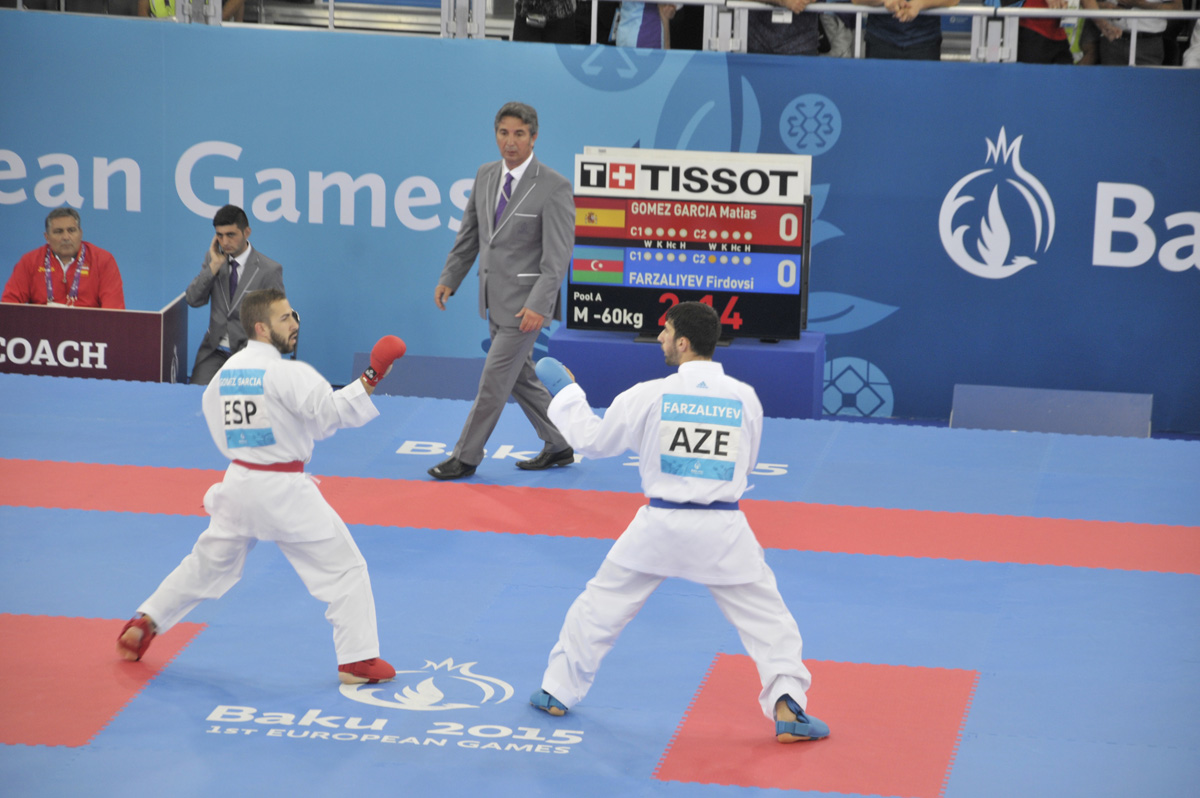 By Nigar Orujova
The First European Games in Baku will help get karate into the Olympic Games, says Simon Clegg, Baku 2015's chief operating officer.

At a press conference in Baku on June 16, Clegg said that many sports aspire to be part of the Olympic movement for all of the benefits that come with that level of profile, and the level of support.

"I think the opportunity to raise the level of awareness of the sport in a sort of Olympic environment in front of so many members of international Olympic committee who were here will only help karate's aspirations of getting into the Olympic Games," Clegg said.
He believes that the European Games are a very positive experience not only for the athletes, but also for the whole sport of karate.
"I am sure people will be taking bigger interest in karate going forward," he said.
Azerbaijan has already won four gold medals and two bronze in the karate events held as part of the Baku 2015 European Games. The karatekas Firdovsi Farzaliyev (60 kg), Rafael Aghayev (75 kg), and Aykhan Mamayev (84 kg) brought gold medals to Azerbaijan in the men's kumite. In the women's, Azerbaijani athlete Irina Zaretska (68 kg) also earned gold in the karate kumite.
Firdovsi Farzaliyev, who won the men's kumite - 60kg gold medal, Azerbaijan's first at the Games, said: "We want to see karate in the Olympics. I want to win an Olympic medal, to be the champion. Every athlete has this dream. It's not a tragedy, and I'm happy to win the European Games. It's almost at the same level. I value it."
Tickets rapidly sold out
The European Games kicked off in Baku on June 12 with an extravagant opening ceremony that riveted the world's attention. The opening show inspired thousands of people to buy the tickets for the closing ceremony.
The Opening Ceremony appears to have increased an already high level of interest in seeing the Games, with 23,000 tickets sold for sporting events in recent days. The 48,000 tickets available for the Closing Ceremony are completely sold out.
"Yesterday we sold an additional 13,500 tickets. This means that we have now sold 38,500 tickets in just the last three days," Clegg said on June 16.
Clegg said that there are already 39 European Games medal winners.

"Yesterday we have really excellent turn out by spectators at the venues, and across all 19 sessions we averaged 84 percent maximum attendance by spectators, including 6 sessions where we had 100 percent attendance. So in that regard we are extremely pleased," he said.

There is a total of 20 sports at Baku 2015: 16 Olympic and four non-Olympic sports. More than 6,000 athletes from across Europe are representing their nations over the 17 days of competition.
Moreover, 168 sporting events out of a total 281 are now sold out.
On June 15, a public holiday in Azerbaijan, 30,000 spectators attended the Baku 2015 sporting competitions and more than 13,000 tickets were sold.
Some tickets are still available, though, on baku2015.com, at ticket outlets across the city, as well as at ticket offices at the venues themselves.
Baku 2015 European Games souvenirs are also in high demand. It was reported that official stores sold over 400,000 manats of licensed Baku 2015 merchandise in the three days of competitions.
--
Nigar Orujova is AzerNews's staff journalist, follow her on Twitter: @o_nigar
Follow us on Twitter @AzerNewsAz