20 November 2014 18:32 (UTC+04:00)
921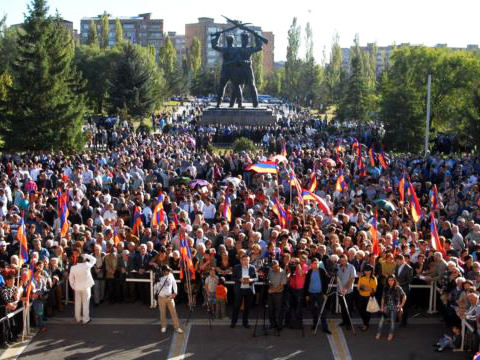 By Mushvig Mehdiyev
Armenia's opposition union "troika" plans to hold its next rally on December 10, said Levon Zurabyan, Head of the parliamentary fraction Armenian National Congress.
Zurabyan said the three anti-government political forces - the Heritage party, Prosperous Armenia party and the Armenian National Congress scheduled their upcoming rally for December 10 in the capital city Yerevan's Liberty Square.
"The Armenian National Congress traditionally holds rally on December 10 each year devoted to the International Human Rights Day. This year we plan to stage protest action and rally at the same time," Zurabyan said.
The union of the oppositional forces intend to address the the human rights situation in Armenia, as well as to announce the further plans of the "troika" following the rally.
Amnesty International, a global movement of people fighting injustice and promoting human rights, says Armenia's top human rights concerns are freedom of expression and violence against women. The government is yet to adopt comprehensive legislation to combat violence against women, a pledge it made in 2008.
Human rights violations have been prevalent at every national election in Armenia except 1991, according to the Amnesty International. Dozens of reported irregularities, including violence against observers by local officials were registered during the latest presidential elections in February 2013.
Zurabyan also noted that the opposition forces intend to convene an extraordinary parliamentary meeting to discuss the amendments to the Electoral Code.
Meanwhile, the ruling Republican Party discusses the possibility of making amendments to the Electoral Code, local media wrote. Talks are reportedly focused on the the majority election system. Amendments don't envisage a transition to proportional election system, but reducing the number of majority seats.
Existing electoral system in Armenia allows 41 majority election districts to elect 41 legislators through majority system.
Zurabyan has earlier announced the troika's decision refusing to hold talks over 12 demands, which the opposition forces presented to the authorities.
"The parliamentary troika sees no sense of discussing 12 demands with the government. We think it would serve the authorities to play for time and deliver a blow on nationwide movement," Zurabyan said.
The list of 12 demands includes the calls on the government to cut taxes for small businesses, considerably increase subsidies to farmers, avoid rise in public transport fares and eliminate economic monopolies.
Armenian opposition troika of the Heritage, Armenian National Congress and Prosperous Armenia parties staged consecutive rallies on September 30, October 10 and October 24 involving tens of thousands of protesting residents. The protesters demanded change of power, voiced their disagreement with the domestic and foreign policy, as well as injustice and limited human rights in the country.
Related News