4 February 2017 11:00 (UTC+04:00)
3 322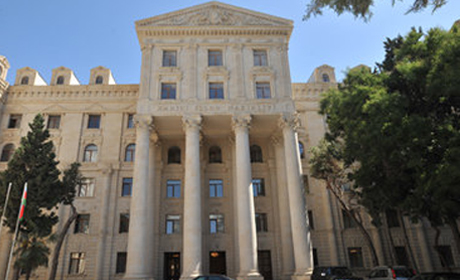 Armenia pushes foreign citizens to visiting Azerbaijan's occupied territories by fraud and other ways, and later tries to turn these people into a tool in its propagandist political games, Hikmat Hajiyev, spokesman for Azerbaijan's Foreign Ministry, told Trend Feb. 3.
He was commenting on the extradition of blogger Alexander Lapshin.
"Alexander Lapshin, despite special warning by the foreign ministries of countries, the citizen of which he is, visited the occupied territories of Azerbaijan by violating the country's state border," Hajiyev said. "Then, knowing that he is in the blacklist of Azerbaijan's Foreign Ministry, which barred him from visiting the country, Lapshin again entered Azerbaijan using the ID issued by another country."
"He himself admitted that he had committed these actions deliberately," Hajiyev added. "A criminal case was initiated under the Criminal Code of Azerbaijan against Lapshin, and he was put on the Interpol international wanted list."
Hajiyev said that being a blogger or a journalist is not a reason for immunity or violation of the laws.
"Therefore, the attempts to politicize this issue or treat it as "violation of freedom of expression" are absolutely wrong," he noted. "Unreasonable fuss and discussions created around this purely legal issue are not clear. Azerbaijan has taken appropriate legal steps for the extradition of Alexander Lapshin detained in Belarus within the framework of the Kishinev Convention on Legal Assistance and Legal Relations in Civil, Family and Criminal Matters signed Oct. 7, 2002 by the CIS countries."
"Armenia's unjustified activity, which causes laughter in this issue, and the country's attempts to politicize it, expose the dirty goals pursued by Yerevan," Hajiyev said.
Alexander Lapshin is a citizen of several countries and has had a criminal conspiracy with Armenians living in the occupied Azerbaijani territories. He also illegally visited these territories.
Lapshin is accused of violating Azerbaijani laws on state border in April 2011 and October 2012.
In order to promote the illegal regime created in the Azerbaijani territories occupied by Armenia, Lapshin presented Azerbaijan's Nagorno-Karabakh as an "independent state" on his social media account, and supporting the "independence" of the unrecognized regime he made public incitements aimed at violating Azerbaijan's territorial integrity on April 6 and June 29, 2016.
The conflict between the two South Caucasus countries began in 1988 when Armenia made territorial claims against Azerbaijan. As a result of the ensuing war, in 1992 Armenian armed forces occupied 20 percent of Azerbaijan, including the Nagorno-Karabakh region and seven surrounding districts. The 1994 ceasefire agreement was followed by peace negotiations.
Armenia has not yet implemented four UN Security Council resolutions on withdrawal of its armed forces from the Nagorno-Karabakh and the surrounding districts.
--
Follow us on Twitter @AzerNewsAz
Category News