Repair work at Kashagan runs ahead of schedule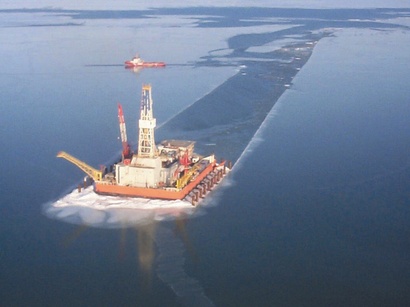 Repair of the pipelines at Kazakh Kashagan field is carried out ahead of schedule, Novosti- Kazakhstan quoted Kazakh Energy Minister Vladimir Shkolnik as saying June 1.
"Gas pipelines and oil pipelines are being replaced at Kashagan. The work is carried out three weeks ahead of the approved schedule," Shkolnik said at the parliamentary hearings in the Parliament's lower chamber.
Earlier, the minister said that repair work at Kashagan should be completed in December 2016 and oil production at the field could begin at the same time.
Kashagan is a large oil and gas field in Kazakhstan, located in the north of the Caspian Sea. The geological reserves of Kashagan are estimated at 4.8 billion metric tons of oil. The total oil reserves amount to 38 billion barrels; some 10 billion out of them are recoverable reserves. There are large natural gas reserves at the Kashagan field - over one trillion cubic meters.
The production at the Kashagan field started September 2013, but in October, it was ceased after a gas leak in one of the main pipelines. The analysis revealed numerous cracks in the pipeline, which needed to be completely replaced. The replacement was projected to take at least two years.
---
Follow us on Twitter @AzerNewsAz