Day of the Armed Forces marked in Vienna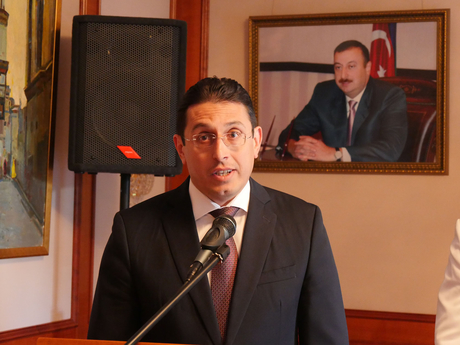 By Sara Rajabova
The 96th anniversary of the founding of Azerbaijani Armed Forces has been celebrated in Austrian capital Vienna.
Azerbaijani embassy in Austria has organized an official reception to commemorate the Day of Armed Forces, AzerTag state news agency reported.
The event was attended by officials of Austrian and Slovakian defense ministries, Austrian MPs, foreign military attaches and representatives of the diplomatic corps and international organizations.
Addressing the event, Azerbaijani ambassador to Austria Galib Israfilov provided an insight into the history of the Azerbaijani Armed Forces.
The diplomat said the history of the Day of the Armed Forces was associated with the name of national leader Heydar Aliyev. Following a 22 May 1998 Decree signed by great leader Heydar Aliyev, Azerbaijan celebrates 26 June as a national holiday - the Armed Forces Day.
The ceremony featured demonstration of a promotional video about the Azerbaijani Armed Forces.
The history of the modern Azerbaijani army dates back to the Azerbaijan Democratic Republic in the early 20th century. The Armed Forces of the Azerbaijan Republic were created on June 26, 1918 to protect the country from the military aggressions of Armenia and Russia.
The Azerbaijani army is professional and the most powerful army in the South Caucasus region. The skills and combat readiness of the Azerbaijani army are growing year on year. The army building process in Azerbaijan is progressing as well.