Israel, Azerbaijan deepen trade, energy relations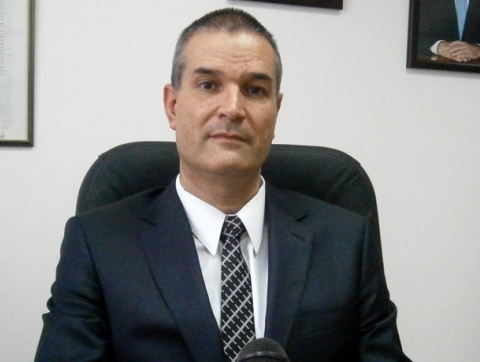 By Nigar Orujova
The relations between Israel and Azerbaijan are at a very high level in all spheres, Israeli Ambassador to Azerbaijan Rafael Harpaz said.
"Both political and economic relations between our countries are good, they are built on confidence. Just look at the relations last year - President Ilham Aliyev met with President Shimon Peres and Prime Minister Benjamin Netanyahu in Davos," he said in an interview with AzerTag state news agency.
"Azerbaijani Foreign Minister Elmar Mammadyarov was in Israel. Israeli Foreign Minister Avigdor Lieberman recently visited Azerbaijan. We are deepening our trade and energy relations. These are very strategic and very important relations to us...As for the visa facilitation agreement, it is in the last process of ratification," Harpaz added.
He congratulated Azerbaijan on the final investment decision regarding TAP, which he regarded as "a historic agreement." He said the decision is very important.
"We cooperate closely in many areas including in energy. Southern Gas Corridor is a very important project. In addition, a significant amount of oil comes to Israel from Azerbaijan. We have also discovered a lot of natural gas. So we are looking for ways and means to cooperate with Azerbaijan in all those areas," he stressed. "We are keen to learn your experiences on energy because we don't have much experience in this area. I think it is very important."
He congratulated Azerbaijan on these major achievements. "We see the economy is thriving, we see the non-energy sector is strengthening, which is very important. I think there is a bright future for the economy of Azerbaijan."
Speaking about Azerbaijan as a land of tolerance and home for more than 30,000 Jews, Harpaz said, he has been all over the world but he has not seen such a tolerance.
"I say it very openly. I think Azerbaijan is a role model for other countries in terms of its tolerance. And, by the way, not just for Jews, but for any other religious or ethnic groups. Whenever I go there I meet the Azerbaijanis who tell me about the Jewish friends, Jewish teachers, doctors," he said.
Harpaz added there is a very significant Azerbaijani community in Israel that is a bridge between the two countries.
"It is a blessing being the ambassador to Azerbaijan, which is really a country of tolerance," he underlined.
Touching upon the Armenian-Azerbaijani Nagorno-Karabakh conflict, Harpaz said: "A few months ago I visited an IDP family which left a very strong impression on me."
He said Israel's position is very clear. "First of all, based on our experience, we hope for a peaceful solution. We believe that a peaceful solution is a way to solve the conflict. We support the efforts of the OSCE Minsk Group. And we support the territorial integrity of Azerbaijan.
"The basic and fundamental element of the settlement process is the territorial integrity of Azerbaijan. It was restated recently by Minister Lieberman and earlier by President Peres. And we really hope for a peaceful solution," he stressed.
Speaking about Azerbaijan's role in European energy security, Harpaz noted Azerbaijan's significant contribution.
"It is also very important for us because we are major consumers of your oil. I think that it is important that you have a diverse market. I think you are conducting a very smart and wise energy policy. And you see so many countries coming to Baku to learn your experiences. Definitely, Azerbaijan is a major player in this sector," he stressed.
Harpaz also spoke of the future prospects of bilateral cooperation between the two countries in the coming year.
"There are four or five areas that we are cooperating very closely. These are energy, water technologies, agricultural technologies, medical technologies and everything related to the telecommunication, high tech, cyber, and also tourism. We trained more than 100 young Azerbaijanis that came to Israel for a six month period," he said.
"They worked in hotels in Eilat. And they came back and are now working in hotels and tourism establishments here. I think your country has wonderful potential for development of its tourism and we are here to work with you to increase your capability in this sphere," he said.
Israel is also interested in sharing the experiences in relevant areas including telecommunication, energy, agriculture and water technologies, he concluded.