Baku's fiery towers receive architectural prize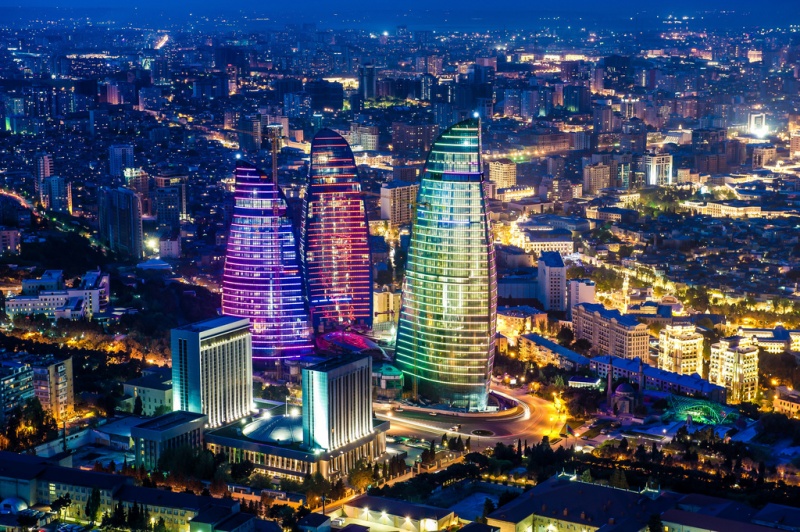 By Nigar Orujova
The Flame Towers complex was placed in the top ten of this year's Emporis Skyscraper Award.
The modern symbol of Baku was placed sixth in the Award which is given to the best skyscrapers built in the previous year.
The jury, comprising architecture experts from all over the world, nominated buildings according to aesthetic and functional design criteria.
The Flame Towers, the most unusual shape in Baku's skyline to date, are three structures that rise 190 meters above Baku.
Their shape was inspired by the city's history of worshipping the Zoroastrian fire and its ongoing connection with natural gas.
The Flame Towers are completely covered with LED screens that display the movement of fire, visible from the farthest parts of the city.
The illumination creates the effect of giant torches, emphasizing the main idea of the Flame Towers incorporated in their name. Their LED exteriors light up at nights to depict flames, a waving Azerbaijani flag, and other moving images.
The Flame Towers has three separate uses embodied by the triplet buildings. To the south is the main residential block, encompassing 130 luxury apartments on 39 floors. The apartments in the tallest of the three towers look out over the Caspian Sea with scenic views reaching far across Baku.
To the north is the hotel tower with 250 rooms and 61 serviced apartments on 33 floors, paired with the 33,114 sq m office tower to the west. Both buildings share the same stunning views as the residential one and mirror its shape, their gracefully curved silhouettes inspired by Baku's history of fire worshipping.
The first place of this year's Award went to London for with the tallest building in Western Europe -the Shard. The second place in the voting went to DC Tower 1 in Vienna, and the third finalist was the Sheraton Huzhou Hot Spring Resort located on Lake Tai.
Emporis is a leading database of information about building and construction projects based in Germany. The Emporis Skyscraper Award is the world's most renowned prize for high-rise architecture, given since 2000.