18 February 2013 19:16 (UTC+04:00)
1 148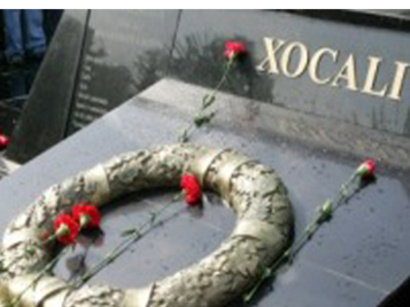 Conferences marking the 21st anniversary of the Khojaly genocide were arranged in Kars and Igdır cities of Turkey, AzerTac state news agency reported.
The conference held in Kars saw speeches by deputy of the Milli Majlis Aydin Mirzazade, Azerbaijan`s consul general Aykhan Suleymanov, Turkish MPs Sinan Oğun, Professor Yusuf Halaçoğlu and Kars Mayor Nevzat Bozkuş. The speakers highlighted history and consequences of the Khojaly tragedy, as well as atrocities by Armenians committed in Igdır and Van.
Another conference attended by Azerbaijani parliamentarians Ganira Pashayeva and Aydin Mirzazade was held in Igdır.
The speakers spoke of the Armenian aggression against Azerbaijan, especially Khojaly massacre, and expressed gratitude to their Turkish counterparts for the support.
Turkish parliamentarians Sinan Oğun and Yusuf Halaçoğlu touched upon the promotion of awareness of the Khojaly and other genocides on the international scene.
The event featured a photo exhibition on the massacre.
The Khojaly massacre is one of the most heinous and bloodiest events of the 20th century. Late into the night of February 25, 1992, the town of Khojaly came under intensive fire from the town of Khankendi and Askeran already occupied by Armenian armed forces. At night the Armenian forces supported by the ex-Soviet 366th regiment completed the surrounding of the town already isolated due to ethnic cleansing of the Azerbaijani population of the neighboring regions. The joint forces occupied the town, which was ruined by heavy artillery shelling.
Thousands of fleeing civilians were ambushed by Armenian forces. Punitive teams of the so-called NK defense army reached the unprotected civilians to slaughter them, mutilating and scalping some bodies. In just a few hours, 613 civilians were killed, including 106 women, 70 elderly and 83 children. A total of 1,000 civilians were disabled. 56 people were killed with outrageous brutality, eight families were totally exterminated, and 25 children lost both parents, while 130 children lost at least one parent, in what became the most brutal punishment of civilians during the three years of the conflict's military phase. Moreover, 1,275 innocent people were taken hostage, while the fate of 150 remains unknown.
Related News