Azerbaijan to crack down on violators of political parties law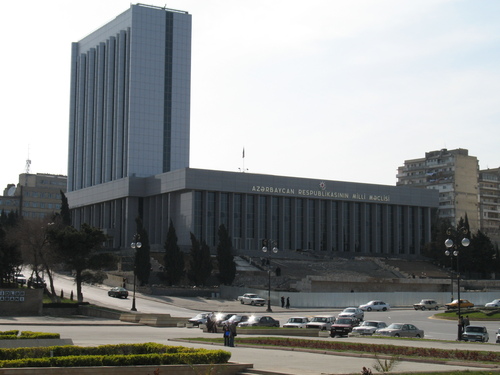 By Nigar Orujova
A panel of Azerbaijan's parliament will discuss amendments toughening fines over breaking the law on political parties.
According to the planned changes to the Code of Administrative Offences, which were submitted for discussion by the Parliamentary Committee for Legal Policy and State Building, in case of breaking the law, private individuals will be fined 750 to 1,500 manats ($956 to $1,912), while officials will pay 1,500 to 3,000 manats ($1,912 to $3,825), and legal entities -- 8,000 to 15,000 manats ($10,201 to $19,127). Such violations concern political parties' interference in state bodies and officials' work, the establishment and functioning of foreign countries' political parties, and making statements or operating on behalf of closed political parties, as well as their involvement in illegal activity.
In case of repeated similar actions, the fines for physical and legal entities as well as officials will double. So, physical entities will be fined in the amount of up to 3,000 manats ($3,825), officials will have to pay up to 6,000 manats ($7,651) and legal entities -- up to 30,000 manats ($38,255).
At the same time, forced membership in political parties may also be punishable in Azerbaijan, according to the proposed amendments, which were drafted by the parliamentary committee on legal policy.
Under one of the draft amendments to the Criminal Code, which deals with forcing people to enter or to maintain membership at a political party, one may be punishable by a fine worth 1,000 manats ($1,275) to 3,000 manats ($3,825), up to two years imprisonment or up to two years of correctional labor, committee chairman Ali Huseynov said.
MP Gudrat Hasanguliyev opposed the amendment, suggesting that head of any party can be accused of forcing people to enter his party.
"Even the ruling party may come across this accusation in the future," Hasanguliyev added.
Fifty-five political parties have been officially registered in Azerbaijan.
The 2013 state budget of Azerbaijan envisions allocating 2 million manats (over $2.54 million) to financing political parties.
Head of the Presidential Administration's social and political affairs department, Ali Hasanov, does not rule out that the amount will increase.
"The more budget opportunities are growing and expanding and Azerbaijan's financial position is strengthening, the more steps will be taken in financing the parties as political institutions," he said.
Hasanov believes that this will help to improve their financial standing.
"Perhaps, this sphere will be improved in the near future. The parties will merge and following an increase in the number of their representatives in parliament, their financing from the state budget will increase."
The fact that around 12, sometimes 14 or 15 parties are represented in parliament, as well as the low number of their representatives in parliament, does not allow them to obtain sufficient funds from the state budget, Hasanov added.